Flaxmore Vineyards takes its name from the road it sits on, Flaxmore Road in Upper Moutere. The former apple orchard was converted into a stunning north-facing rolling-hillside vineyard by Stuart and P Anderson in 2008. They have supplied grapes to Neudorf Vineyards since 2011 and since the couple launched their own label in 2018 I have been a fan of their wines.
Last week I sat down with Stuart to chat about the current vintage, find out what they've done on the vineyard in the last couple of years and to taste some current release wines.
Stuart says, "we're loving this late summer/early autumn weather, the fruit is looking great, there's still risk with regards to rain, but hopefully not too much."
Recent changes in the vineyard include grafting some chardonnay clone 15 vines onto less productive pinot noir, "it's now producing some lovely fruit and we have also planted some Mendoza clone chardonnay. We replaced eight long rows of pinot gris which, on balance, we probably had a bit much of, and having extra chardonnay will give us better capacity to produce our own, while also meeting our supply contract requirements.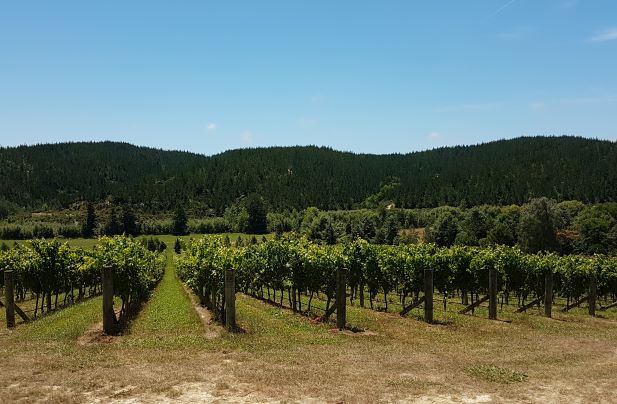 "When you initially plan a vineyard it's always a bit of an educated guess as to how much of any one variety you need, so now we're fine-tuning the vineyard configuration."
These latest chardonnay vines have been planted at a slightly higher density, in NZ the average is about 3,000 vines per Ha but in parts of Burgundy they have anything up to 10,000 vines per Ha and only get a few bunches off each vine. "The higher density creates more competition between vines and we're asking each vine to produce a smaller but higher quality crop".
"It's all about improving quality of fruit in everything we do. Growing gapes is about trialling things too. Our philosophy has always been about making the wine in the vineyard as much as possible and then guiding great fruit through a winemaking process. So, these small but significant changes are all aimed at making the very best wines we can."
Stuart told me he thinks they have their clone selection about right so their wines, after five vintages, are aligning with how they envisaged each vineyard block performing. They also have another two hectares at the top of the hill which is targeted for a couple of pinot noir and chardonnay clones that, so far, aren't represented in the vineyard, but look very interesting.
"Adding a chardonnay to our range with the 2020 vintage was an important development for us and it has been very well received in the market. In 2022, the NZ Wine Rater tasting panel put our chardonnay in the top 15 (of 66 NZ Chardonnays tasted), alongside wines from Neudorf Vineyards and Tohu (Old House Road block).  Three local vineyards in the top 15 is a great result for Nelson.
"We usually have two vintages of pinot noir available but occasionally sell out of one of them so, to keep the choice of two pinots for customers, we have created a second label that uses a different blend of clones; it's more fruit forward and only matured in older oak barrels. It's still a serious wine but an approachable early release pinot noir. We've just bottled the first vintage and will release it in a few months. This means we will always have at least two pinots for people to try at the cellar door."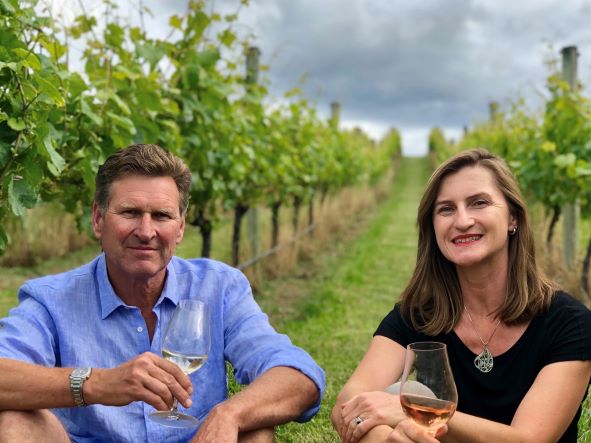 Flaxmore Vineyards has had a busy summer with lots of visitors, national and international, with their art gallery within the cellar door and vineyard walk proving very popular. "People love to spend time contemplating the art and tasting our wines; the space has a great ambiance."
They are open every weekend from mid-October to mid-April and by appointment weekdays and during the winter months. Stuart says, "Just contact us and arrange a visit".
Here are my thoughts on a couple of the wines I tried with Stuart, but the best thing you can do is take a trip out to their beautiful vineyard, check out the art, have a stroll around the vineyard so you can see the vines up close and, of course, taste their outstanding wines for yourself. www.flaxmore.co.nz
Published in The Nelson Mail 08-03-2023 
Flaxmore Vineyards 2022 Rose RRP $23 
This pale salmon pink wine with aromas of peaches and cream and a layer of minerality has bright, balanced acidity that lets the fruit ripeness shine. Made from hand select fruit specifically for this rose it is delightfully easy to drink, beautifully balance and packed with flavours of summer  4.5 *
Flaxmore Vineyards 2021 Chardonnay RRP $33
Lovely soft toasted nut aromas with layers of stonefruit characters are beautifully enticing while beautiful ripe acidity on the intense, weighty palate lets the Moutere clays fruit express itself nicely. This is a beautifully balanced wine with elegant acidity and just the right amount of oak that appears as a complexity note rather than in your face oak. A cellar worthy wine but drinking beautifully nicely right now and delivers quality well above its price point. 4.5*