By now you will know I am a real fan of food carts that bring authentic flavours from other countries and cultures to our bountiful region. Way back in 2018 I told you about Viva la Vaca, and recently Matias Cacciavillani (Matu) and Chelsea Hall have added not just another product but a whole new food concept to their offerings. Yo Mama's is a food cart located in Trafalgar St that sells authentic empanadas that are hand crafted by Matu.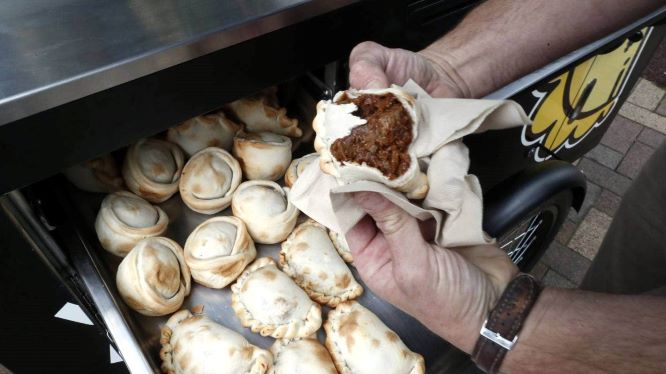 I have tried the empanadas from Viva La Vaca a number of times and they are delicious, so I'm not surprised the couple have decided to set up a specialty food cart selling them. I caught up with Matu a couple of weeks ago to talk everything empanada – where do they originate from, what are they, what are they made from, and what sort of fillings do theirs have?
Viva la Vaca specialises in beautiful Argentinian style slow cooked meats served in fresh ciabatta buns, and that makes a great basis for expanding their offerings and the number of places you and I can buy their empanadas.
But let's go back a step or two and remind ourselves about the cooking heritage the couple brings to their food businesses; Matu is a traditionally trained chef from Patagonia, Argentina and met Chelsea at Heron Island on the Great Barrier Reef where she was working as a dive instructor and he was a chef in the resort.
He left home to study at a cooking school in Buenos Aires then, after returning to Patagonia for two years, he headed to the Basque region in Spain where he had a placement in the three Michelin star restaurant Martin Berasategui in Lasarte.
The food they serve in Nelson has an obvious Argentinian and Spanish influence, the new Yo Mama's food cart only sells empanadas that are a traditional food in many places, "in Argentina if you find a burger joint you will find an empanada joint" Matu says.
Every country has it's own form of empanada using specialty foods from that country. In England they have the pasty that originated in Cornwall. The whole concept is that it's easy to grab and go, made originally for people with dirty hands, like coal miners so they could eat the inside and throw away the crust they were holding.
The new Yo Mama's food cart is actually an e-tricycle that has been fitted out with hot storage box designed by Matu and Chelsea, "We had this vision for what we wanted, and you wouldn't believe what was required to make it happen. We had an engineer to create the stainless steel box as a base with a burner mounted on top of that and then we designed our own empanada warmer for the top so it's a three level piece of equipment, all made here in Nelson.
"We are part of this community and the community has been very kind to us so we want to involve as many local people as possible in everything we do. You can't go far without your community, we want to make sure we support our local community too."
Matu makes the empanadas in their commercial production kitchen and they are put into the storage box and warmer on the e-trike. "They get baked fresh daily and every week we have a special flavour to go with the standard flavours of carne (grass fed NZ beef, confit onions, herbs and spices), queso (provolone & mozzarella cheese, onions herbs and spices) and then specials like braised NZ merino lamb, or wild mushroom & spinach."
In keeping with their buy local ethos they use products like NZ free range and grass fed meats, ViaVio mozzarella, Little River and Cranky Goat cheeses and "wild mushrooms we source locally when they're in season. We have so many wonderful producers in this region, it's fantastic."
Matu says there are a few things that make great empanadas but there are only two key components, the crust and the filling. "The hard part is getting the dough right, it has to be crunchy, they come out of the oven and you think wow, I want one of those."
The dough has to have a good ratio of fat, (oil or animal fat), and Matu says the type of salt and flour you use are important too, "we want to go organic but it's hard to find the right organic flour in large amounts. It's a simple dough but you need to make sure you use the right products to get the best flavour and cooking result."
The couple are always thinking of ways of growing their business, as well as being at Kirby Lane most Fridays the Viva la Vaca woodfired oven is often found at events like weddings and festivals around the region "but the bigger mobile oven only suits larger functions and events, with Yo Mama's we can cater for much smaller events. Things like small parties at home, work shouts, lunches for meetings and various celebrations; we can deliver them to you on the e-trike within certain boundaries and the empanadas can be savoury or sweet.
"What I want to achieve is to have empanadas being delivered by bicycle everywhere – to homes, offices, meeting places, basically wherever people want us to be. We are going to be making boxes of empanadas that can either be delivered (for free) in the Nelson CBD between 2-4pm or collected from the Viva la Vaca commercial kitchen at Kinzett Terrace between 4-4:45pm Wednesday to Friday, or another time by arrangement. There's a minimum order of six empanadas and there will be at least three flavours available."
Matu told me that Covid taught them you can't expect people to come to you, "you need to embrace taking products to people, we know it will grow over time. It would be wonderful to be able to supply them to other outlets like takeaways, coffee shops, petrol stations, dairies, and so on but to comply with regulations it will take a lot of work to get there so it is one step at a time."
If you are looking for a tasty, hot lunch or snack during the week then check out the beautiful empanadas at Yo Mama's outside the BNZ on Trafalgar St or at the Nelson Market on Saturdays from 26th June, you might see me there too.