If you are a fan of cooking shows on TV then you will remember Paula Saengthian-Ngam from Nelson who was the runner up in Master Chef New Zealand in 2013.
Her latest venture is working with Fresh Choice in Nelson developing a range of very handy Inspire Meal Bags for you to pick up and take home; the meal bags include a recipe and all the ingredients you will need to create one of her tasty dishes, all you have to do is have a few basic things at home like salt and pepper, oil, butter, flour and cornmeal but the bags included all the spices, vegetables and a protein like chicken or beef.
Paula says most people keep the recipe card and simply buy the ingredients they need next time because some of the ingredients in the bags come in bottles or packs larger than is needed to cook the recipe, "it is a way of stocking up your pantry for next time and the beautiful food photography of Amy Russ Images makes the recipe cards perfect to collect" she says.
I had a chat with Mark A'Court from Fresh Choice Nelson City about the Inspire Meal Bags and he says they are becoming really popular "there are other options for home delivery of food bags but we are finding people love having a choice, so Paula writes the recipes and we just have everything in one place for them to take home and prepare.
"I think choice is the main point of difference with these bags, some days people may not feel like cooking a dish from a delivered bag but in this case you can browse the recipes on the different bags and choose something you feel like cooking and eating to suit your mood." says A'Court. "Or you can even order a specific meal bag from the Fresh Choice Nelson website and we will have it ready for you to collect on your way home from work."
The other big difference with this product is that you only buy one meal at a time, not a full week's worth, so if you are in a hurry you can just run into the supermarket, pick a recipe that appeals and grab the bag making it a wonderfully convenient way to buy food for a meal.
After talking with A'Court I thought I should find out more about the woman who writes such delicious recipes so I met Saengthian-Ngam to have a chat over a coffee and talk about her journey from being the youngest in a family of eight children living on the West Coast to falling in love with food and doing very well in NZ Master Chef.
There were a number of things that surprised me during our conversation but probably the most intriguing concerned Master Chef; when we watch the programme we know it was made months earlier while the editing makes it seem as though one day of cooking and judging follows the next, but not so, there can be several days between filming with a two week break between the semi-finals and the final during which time they had no idea what day the producers would turn up and say 'today is finals day'.
"That was incredibly stressful' says Saengthian-Ngam "and with the psychological pressure they put you under means the experience really is life-changing."
Her food journey started at home as a young child, "mum could make something out of nothing and make ingredients go a long way, something you simply had to do with so many mouths to feed, but she still managed to make wonderfully flavoursome and healthy food for us."
After moving to Timaru to go to high school she moved to Christchurch when she left school and moved in with her sister who she says "is an amazing cook and she really inspired me in the kitchen by making me help her cook."
She moved to Christchurch when she left high school and thought about completing a cooking course, "I looked into it but did an art design course instead" and she says she knows she has some short comings when she compares herself to those who have formal training "but I have a huge amount of experience working with ingredients and cooking the foods of countries I have visited, I just love to learn about food."
Part of that food experience was moving to Sydney for a couple of years, "coming from Greymouth and ending up in a big bustling city I was exposed to a whole different food culture and a wide range of inspiring food experiences."
She married a Thai man and that ended up having another huge influence on her food.
After Thailand it was back to Greymouth where she and her husband had two children and adopted the orphan child of her now ex-husband's sister before moving to Nelson in about 2008.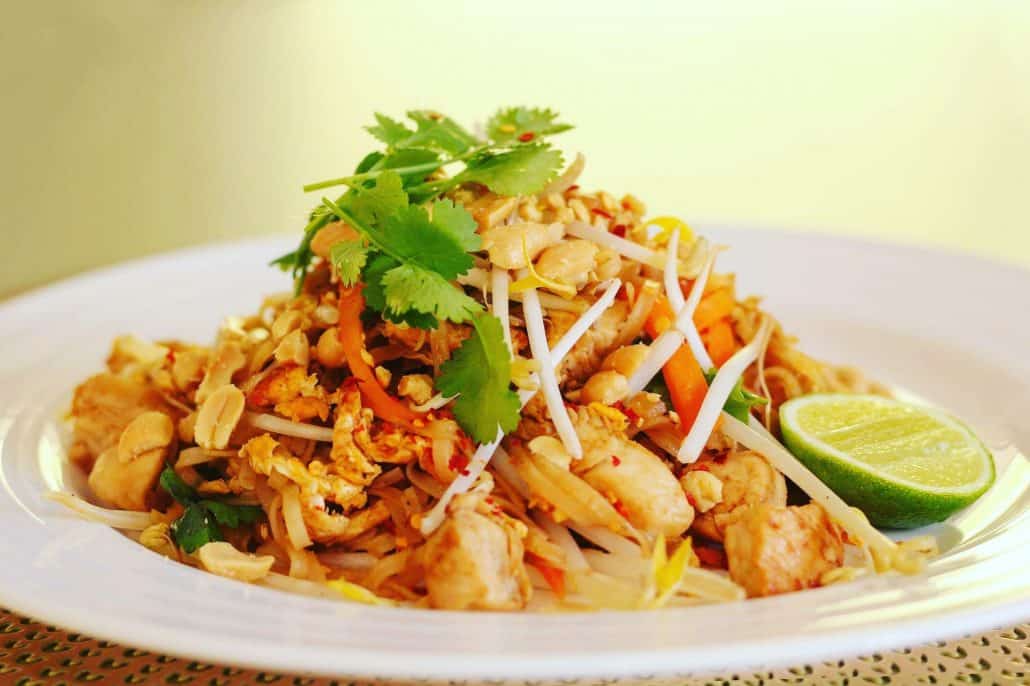 "Family food and village style Thai foods are quite different to what you will find in a restaurant, you could be eating anything from snails to cow bile and even rats, I ate everything but it isn't something I would cook here and the real focus for me was street food and market foods."
"I was just a busy mum who loved to dabble in food a bit, I had a pad thai food stall at events like Mapua fair, school fairs and at the McCashin's Market when it was running."
Then came Master Chef, she decided to apply and didn't tell anyone, got through the first written application round, was invited to Wellington to take part in the first cooking audition and was selected for the second round where about 150 people had to cook the same dish from round one again in Auckland.
Fifty applicants got an apron and appeared in the first televised round in the Master Chef kitchen where half were culled, after the second round in the kitchen numbers were culled to 16 and those people moved in to the Master Chef house for three months.
"It was a huge commitment and it is where the psychological games started, I had left my then husband and three kids at home, the kids were aged 5 to 12 and the producers do things like just turning up at the house on a non-filming day and say something like 'today is your daughter's birthday, how do you feel?' and that created a lot of stress all designed to get some video showing a few tears."
Saengthian-Ngam told me the Master Chef experience changed her attitude to life rather than food, "I had always had a passion for food and the show exposed to a lot of things I had never done before, I had some wonderful experiences like cooking in the kitchen at the French Café in Auckland."
So back to the Inspire Meal Bags, she says "with me being a busy single mum with three kids, and even though I can cook, it is the convenience of the bags that appeals to me. It is really hard to fit everything you have to do when working full time with children, parents are constantly in a hurry, always rushing, and sometimes don't get home until after 6pm so they often find themselves rushing around the supermarket looking for something to cook.
"Doing this myself made me realise there was a need for a quick shopping option and something that doesn't take longer than about 45 minutes to cook.
"I am delighted Mark is giving the bags a chance in his store and if they carry on working as well as they are then we have plans to expand the project."