Seifried Estate Family Winemakers are among the early pioneers of the modern winemaking era in Nelson, and indeed, New Zealand. They are also the largest wine producer in the Nelson Region and a couple of things about their recent awards really stand out for me.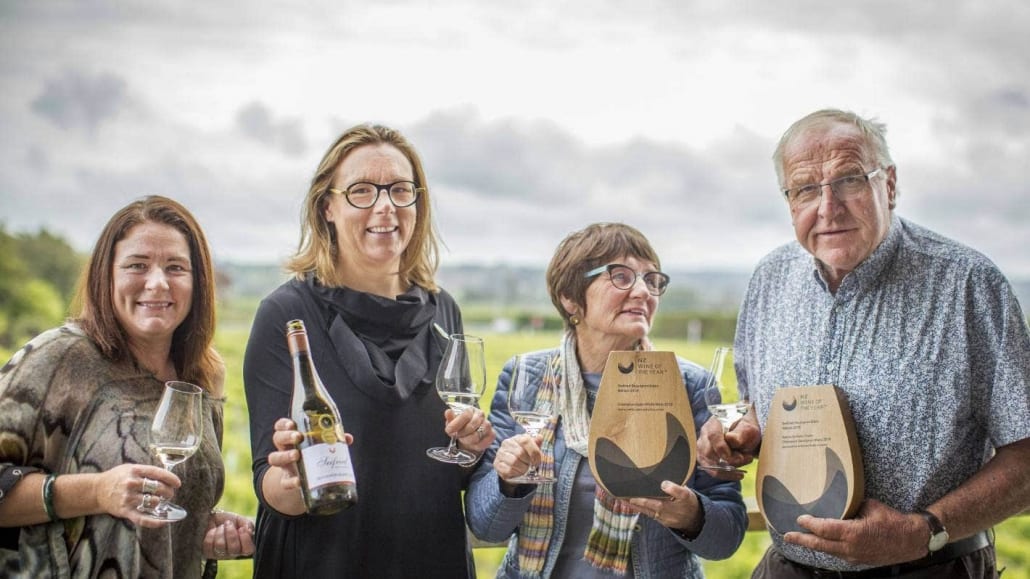 Seifried Estate have won gold medals for a number of varieties and have also produced New Zealand's best wine as judged at one of the world's and Europe's largest and most important summer wine shows, Mundus Vini in Germany. They were awarded three gold medals, three silver medals and  a wheelbarrow full of bronze medals at this year's New Zealand International Wine Show, have had a wine included in the New World Wine Awards Top 50 and they also won the Colin Harrison Memorial Trophy for this region's best Chardonnay.
Then consider that some of the gold medals were awarded to wines sold under the entry level Old Coach Road label with a recommended retail price of just $14 and it is obvious, to anyone who cares to take more than a cursory glance, that this winemaking family produces quality wines at every level, not just their most expensive wines.
Last week I sat down with brother and sister team Chris and Anna Seifried to talk about what has made their wines so successful over the years and what was special about the Seifried Nelson Sauvignon Blanc 2019 that won the Trophy for the top Sauvignon Blanc at the New Zealand Wine Show last year followed by the 2020 version winning top spot at Mundus Vini this year; quite a remarkable achievement when you consider these wines topped anything that came out of Marlborough.
Chris said "it comes down to the great team we have both in the vineyards and in the winery. Most of our permanent staff have been with us for many years and have developed a depth of understanding of the fruit that comes from various vineyard blocks and the wines we can make with that fruit.
Hermann manages the vineyard team but is never happy with status quo. He and Agnes have always had the attitude that something can always be done better and that is an attitude we try and bring to every part of the business."
Seifried Estate produce large volumes of wine each year and unlike many other large producers prefer to use a cold settling process rather than a continuous floatation process to partially clarify the wine before it's fermented. Chris told me when the grapes are first pressed it is cloudy, "a bit like shaking a bottle of pulpy orange juice" continuous floatation requires pumping nitrogen into the large tanks forcing the unwanted pulp to the top so the clear juice can be racked off from the bottom of the tank and fermented. This process takes three or four hours.
Cold settling is a more natural process but takes 24 – 48 hours so is much slower, the pulp settles on the bottom of the tank and the clear juice is racked off the top. "We think it helps retain aromas in the wine that tend to be affected by continuous flotation. We have gone back and looked at how we make all our wines and in what areas we can reduce oxidation during the winemaking process. We have also been reducing the amount of sulphur we use as a preservative, so everything has to be controlled winemaking."
Anna said that the weather has been particularly kind to Nelson in the last couple of vintages and that always helps with the development of fruit ripeness and flavours.
Anna also told me that Hermann and Agnes have always wanted to make wines that over-deliver, "we want people to feel they have had a good value wine. Old Coach Road may be cheap on the shelf but don't overlook these wines because they're cheap, the range delivers outstanding value for money".
And that's backed up by being awarded two gold medals.
Wines of The Week
Seifried Nelson Gewurztraminer 2020 RRP $18 – 5 stars
The mouthfeel and weight of this wine is medium in intensity rather than being too rich but is still mouthfilling. This allows the delicate lychee and ginger flavours to sparkle on the palate. Refined acidity brightens the finish leaving you wanting 'just one more taste please'. It's another Seifried wine that delivers outstanding value for money. It has been awarded a Gold medal at the 2020 New World Wine Awards and named in the Top 50.
Aotea by the Seifried Family Sauvignon Blanc 2020 RRP $29 – 5 stars
The mouthfeel is rounded with a touch of sulfide complexity. Powdery, ripe acid characters with a mineral character provides a backbone for the ripe fruit. This is a grown-up, complex Sauvignon Blanc. It's more forward and more complex than it's Seifried stablemate but it's not just about bright zingy fruit. The wine picked up a Gold medal at the Austrian Wine Challenge (AWC) in Vienna making it three golds for this wine so far and I predict many more to come.
Published in the Nelson Mail 07.10.20
Recent medals and trophies for Seifried Estate
Colin Harrison Memorial Trophy
Aotea by the Seifried Family Nelson Chardonnay 2019
Mundus Vini
Seifried Nelson Sauvignon Blanc 2020 – Best Wine of Show NZ
AWC (Austrian Wine Challenge) Vienna International Wine Show
Gold medal for Aotea by the Seifried Family Nelson Sauvignon Blanc 2020
New World Wine Awards
Top 50
Seifried Nelson Gewurztraminer 2020
New Zealand International Wine Show
Gold
Old Coach Road Nelson Pinot Gris 2020
Old Coach Road Nelson Sauvignon Blanc 2020
Seifried Winemakers Collection Nelson 'Sweet Agnes' Riesling 2019 (Double Gold)
Silver
Seifried Nelson Gewürztraminer 2020
Seifried Nelson Sauvignon Blanc 2020
Aotea by the Seifried Family Nelson Méthode Traditionelle NV