There are a huge range of eggs to choose from at the supermarkets, but in the Nelson Tasman region we are lucky to have a handful of outstanding free range egg producers whose operations are very small but the quality of the eggs they produce for you and me is top shelf.
Last week I had a chat with Domenico Palumbo who, with his partner Helen Davies, owns Brookfield Free Range Eggs. Their farm is about an hour's drive south of Nelson in the Sherry River area, and it's where hens and ducks have an idyllic life roaming large paddocks.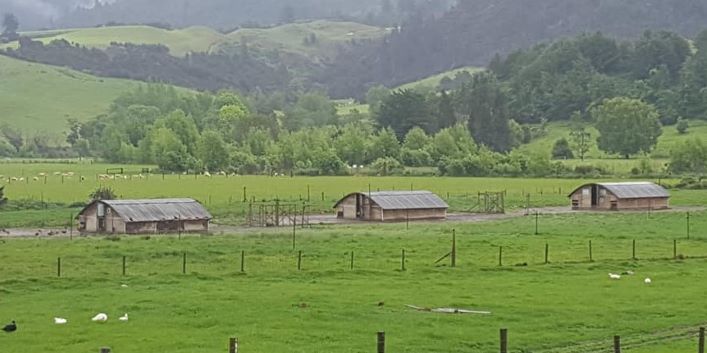 Domenico told me the hens and ducks have plenty of shelter and a place to roost at night but otherwise are free to roam the property that is farmed using organic practices, "the health and wellbeing of our hens and ducks is the single most important thing to us" he said.
Born in Italy Domenico migrated to Nelson with his family some 33 years ago, he told me that "in Italy we had a small rural property with a lemon grove, olive trees, a small vineyard, a few pigs and some chickens – basically, I grew up on  a farm. My first job Nelson was working in my step-father's tomato glass houses in The Wood after school."
After 20 years working in retail and retail management he decided it was time to do something different, "We used to have a house with a rental property attached but  with new regulations and a couple of bad experiences with tenants we decided to sell that property and went looking for an old fashioned acre to have a small farm-like property, somewhere with a bit of space but not too big.
"We couldn't find anything in Nelson or as far out as Wakefield, but I know a few people in Tapawera so when this property in Sherry River came up  we went from looking for an acre to owning five acres, about 2000 chickens and about 60 ducks."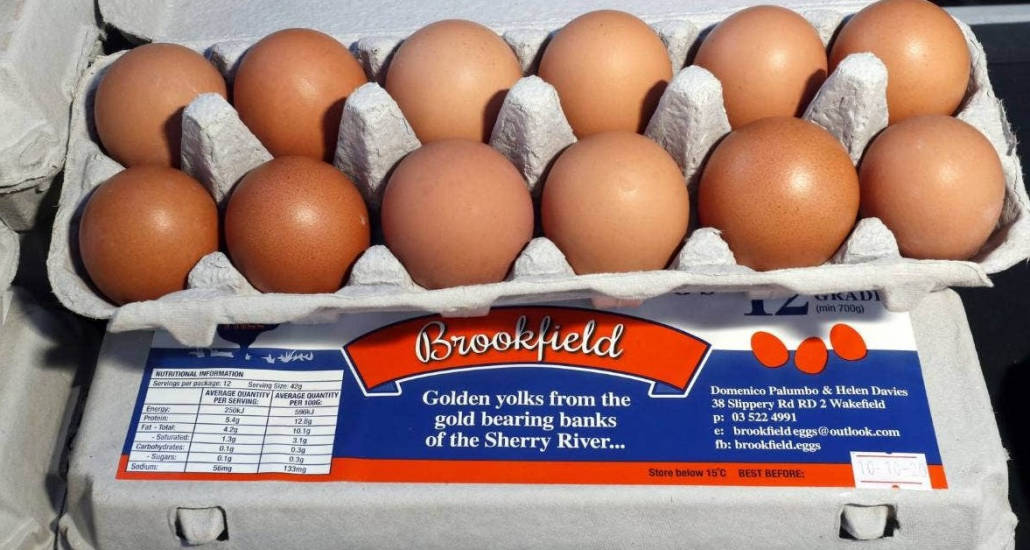 They bought Brookfield Free Range Eggs in 2018 and are going about upgrading some of the shelters and renewing some of the pasture that was drought affected over the last couple of summers. "The shelters need upgrading because they are about 10 years old, made with untreated timber and in summer the hens need a bit more shelter so we need to expand the shelter we have, especially if we turn the last paddock we have into egg production too."
Making sure the paddocks are in top condition is important, "we do buy chicken feed that's a mix of soy-free grains to supplement the natural foods. The chickens need to be able to scavenge for worms and bugs while they are roaming free. It's pretty hard for them in summer, when the ground is hard, so the additional feed is vital."
In true a free range farming way the ducks swim in the Sherry River that runs along the edge of the property and they also head off to the neighbour's creek where there's a big tree for shade as well.
When sun comes up hens head out to graze and wander back in to the shelters, where they laying boxes are, at dusk, "When it's windy the chickens head into the cover, when it rains some of them love it and others head for cover but the ducks choose to just roam free.
"We do have the odd problem with predators (stoats and hawks) if there is a shortage of prey for them and we can lose several in a week. At the moment every two or three days we are losing a chicken to a stoat or ferret that we can't catch, they do have lot of chickens to choose from so it's hard to find them."
Being a small producer is also an expensive way of farming for eggs, "the big guys have machines for gathering the eggs, sorting, cleaning and packaging them but we do it all by hand.
At Brookfield Free Range Eggs they produce between 1200 and 1800 chicken eggs every day and about 100 duck eggs.
While they sell their eggs to a couple of retailers their main outlet is the Saturday Nelson Market and the Wednesday Nelson Farmers Market.
Brookfield Free Range Eggs are delicious and my top tip is to use their duck eggs in an omelette or to add a real richness to lemon curd.
Latitude 41 Nelson Hill Block Pinot Gris 2020 by Spencer Hill
The Latitude 41 2020 Pinot Gris is a richly textured wine with a medium-full mouthfeel and balanced beautifully with ripe acidity supporting the flavours of pears with a twist of lemon in the finish. The old oak used in the fermentation adds an elegant rich texture to the wine.
This is a wonderful example of the evolution of Pinot Gris produced in Nelson, winemakers are embracing the cool climate freshness that enhances the delicious fruit characters of the variety.
Neudorf Rosie's Block 25 Rows Chardonnay 2019 RRP $45
This may be the unoaked little brother to the stunning Neudorf Home Block Moutere Chardonnay 2019 but it is by no means a lesser wine. With 25% of the Mendoza fruit fermented in a clay amphora and having spent 10 months on gross lees then four months on fine lees the wine has a certain palate intensity you don't expect in an unoaked wine.
Flavours are crisp and refined while the juicy acidity enhances the dry finish. This is a very smart, thought provoking wine, that the back label on the bottle describes as "Sleek – Viscous – Cohesive" and that's a very good description of this fine wine.
Published in The Nelson Mail 30.09.20