At home we tend to eat a reasonable amount of vegetarian food, things like salads and risotto regularly appear on our dinner table but I am absolutely certain the one thing that will stop me ever becoming vegan is cheese. I simply can't imagine many dishes without parmesan cheese either in the dish or shaved over it, and as for not being able to enjoy a ripe, soft and gooey brie or stinky blue cheese – unthinkable! Turning away from cheese will just never happen for me.
Putting the whole vegan thing aside and focussing on the positive, New Zealand cheese makers produce many wonderful cheeses, and a lot of those are made right here in the top of the South Island. Producers like Via Vio, Thorvald and sister brand Little River, Cranky Goat from the Marlborough Sounds, Kaikoura Cheese and Kervella from Golden Bay are making a range of cheeses that are simply world class, and we eat them regularly.
2020 has been a very disruptive year for everyone but the New Zealand Specialty Cheesemakers Association (NZSCA) say cheesemakers had to adapt to "find new markets as farmers' markets, some specialty food stores, cafes and restaurants closed during lockdown".
They also say that "as New Zealanders hunkered down staying safe, they used their free time to explore and support New Zealand made produce, including New Zealand cheese, which is enjoying record sales."
October is New Zealand Cheese Month and NZSCA have joined with Barker's of Geraldine to find Kiwi's favourite NZ Cheese Company. You can vote for your favourite NZ Cheese Company at www.cheeseloversnz.co.nz and I think local cheese makers deserve your vote.
At the New Zealand Cheese Awards that were announced earlier in the year Thorvald Curado was named Champion Cheese in the Sheep Cheese category and Champion Soft White Rind Cheese with the Thorvald Little River Brie. Via Vio won the Champion Fresh Italian Style Cheese with the Via Vio Burrata.
Three from 21 Champion Cheese awards coming to Nelson is a fantastic achievement, but consider that the three Champion Cheese Awards came from just eight gold medals awarded to these companies, almost half of the gold medal cheeses from the region became Champion in their category – that is something to celebrate!
NZSCA recently sent me a pack of cheeses to sample and there were some outstanding cheeses among them. Other than the local cheeses that we buy anyway a couple that really grabbed the attention of my taste buds were the Waimata Sheep & Cows Milk Blend Brie that was creamy with a little tartness, a fresh sheep milk curd cheese from Annabelle David that was so fresh and delicate the small tub seemed to just evaporate in a matter of minutes and the Over the Moon Black Truffle Brie. This cheese is has a layer of shaved black truffle through the centre and is packed with rich, pungent truffle flavours.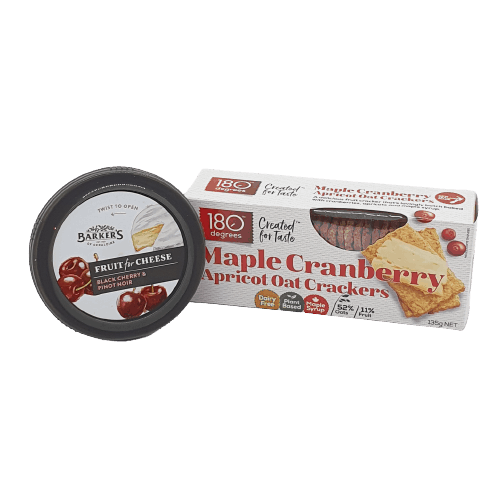 They key to getting the most from every cheese you enjoy is to make sure you take it out of the fridge an hour or so before you want to eat it, especially with soft cheeses like brie and camembert. If they are too cold you won't experience the true creamy texture that is such an important part of these cheeses.
To celebrate NZ Cheese Month Cranky Goat are giving away a $100 cheese pack, just go to their website for details www.crankygoatltd.co.nz
Make sure you go out of your way to buy local and new Zealand made specialty cheeses this month, especially those made by artisan producers who hand craft every delicious cheese they sell.
Wine picks
Aotea by Seifried Family Winemakers Cabernet Franc 2019 RRP$39 5*
Cabernet Franc is not usually a variety you associate with cool climate growing conditions but the 2019 vintage conditions delivered very ripe fruit with intense flavours. The deep flavours are rich and spicy with notes of black currant, crushed fresh raspberries and black pepper while the juicy acidity adds fresh vibrancy to the refined tannins in the finish. This is a wonderful wine that is super delicious now but it's still very young so if you can keep your hands off it cellar it for 5-6 years.
Spencer Hill The Wild One Chardonnay 2019 4*
This wine treads a fine line, if you are very sensitive to sulfide characters you may not enjoy the wine as much as someone who isn't. For me the flavours are complex and rich, the sulfides add to the texture of the wine while the sulfide funk doesn't overpower the creamy yellow peach flavours and the crisp citrus acidity in the very long finish. As the winemaker says this "is a wine that has plenty of style and individuality."
Published in the Nelson Mail 14.10.20