Chai has become an incredibly popular drink in recent years, it's essentially a flavoured tea and when made well is delicious. I recently came across a sticky chai product made right here in Upper Moutere and wanted to find out more about the woman behind the product as well as just what is sticky chai and why is it both great tasting and good for you.
Monique Dupuis uses the commercial kitchen at The Old Post Office to create her sticky chai and bottle if for sale and she told me Sunhouse Chai was "created with the intention to bring the beauty and realness of chai sipping to the table."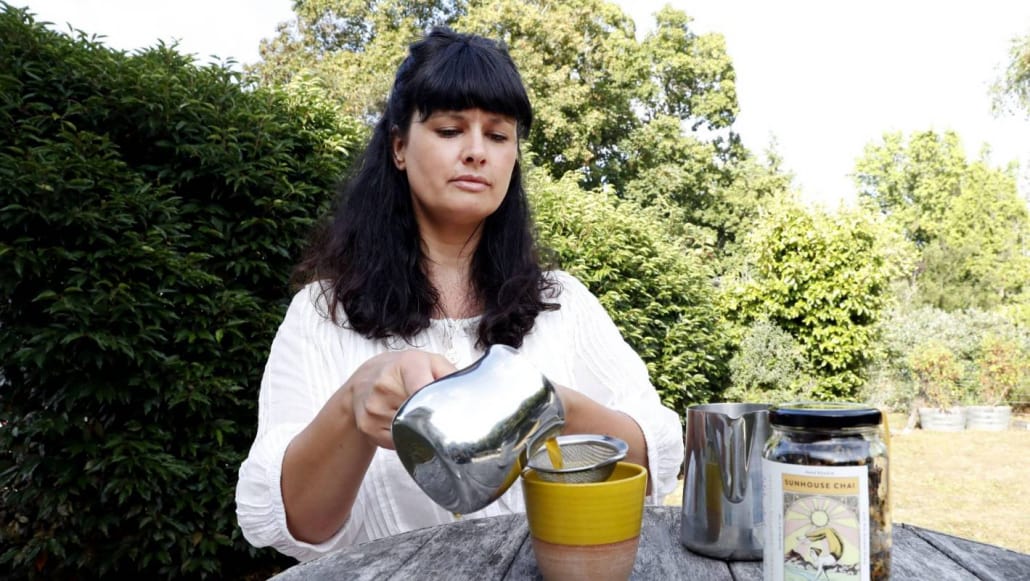 Sunhouse Chai is a hand blended real chai, "I choose to use assam tea leaves because they are certified organic and the cut of the leaf is the perfect size, it blends really well with the whole spices resulting in better flavour in the cup."
When Monique refers to the 'cut' of the tea she means the size the leaf has been cut to, it's not a fine-cut tea like you find in tea bags and she says one of the things she loves, other than a better taste, is that you can see the ingredients in the jar. "You can see the larger-cut leaves and because I use organic whole spices you can see what is in the blend, you can see the cardamom pods.
"If you buy a powdered chai to mix with milk or water you have to read the label and trust the producer as to the exact make-up of the powder, with Sunhouse Sticky Chai you can literally see the ingredients."
Sunhouse chai is infused with turmeric granules for added health benefits and blended with other organic spices and wilderness honey for a touch of natural sweetness but it is totally free from artificial colours and flavours and that creates the unique flavours you can taste when sipping Sunhouse Chai.
This product is so well balanced and tasty I thought she must have had a background in cooking but no, Monique used to live in Australia with her husband Taylor and their two children. "I wanted to move here to be with my family who had relocated to Nelson from Christchurch and I dragged poor Taylor along with me'" she says with a big smile.
One of the main driving forces that made the decision to move to Upper Moutere about five years ago was the hustle and bustle of Sydney, "it is just so frantic and busy with more cars, more houses,  more people all on top of each other, it isn't a great place for a young family. We wanted to get the kids away from the city and moving here has been a great move, the kids love it, I love it and we feel we can breathe again."
"We had surf shop and cafe in Manly. He had the surf shop and I ran the café, we served a chai product there that was delicious and when we moved here I missed it. I had always made chai in the kitchen at home and the idea of producing it as a business just flowed from there."
"In Manly I was making my own chai in the kitchen at home, friends would go to India and on other overseas adventures while I was the young mum at home and couldn't travel so it was my way of joining them on their travels, I always had a hot pot of chai on the stove."
When it comes to the process of making her sticky chai (so named because it includes honey in the blend) Monique takes the certified organic raw tea, whole spices she imports from Australia, "I used to get them from a New Zealand company but they stopped supplying them" and honey from a certified organic producer in Ruby Bay.
She then grinds her own spices, like star anise, not into a powder but just enough to help release the flavours, and she toasts some of them to release even more flavour. An ingredient that did surprise but in hindsight shouldn't have, is the addition of a little bit of salt, "just because everything needs salt to enhance flavours", and all of this is then blended by hand mixing with a big spoon.
Of course Monique wouldn't tell me the exact blend because "that's giving away the secret, it took me about a year to develop and refine the recipes. As I drank the different blends I would think it just needs a little more x to lift it a bit."

Sunhouse Chai is hand blended in small batches to make sure the product you buy is always fresh, but how do you make the perfect sticky chai?
"I usually make it in a small chai pot that's like a Turkish coffee pot on the stove but the main thing is to make sure you don't over-extract the tea by letting it steep for too long, it can get bitter from the tannins if you keep it on the stove for too long, just like keeping an ordinary tea too long in the teapot, so its best consumed freshly made.
"In saying that you can get two serves out of a brew made with a heaped tablespoon of sticky chai and mixed to your taste, some people make it like regular tea with about ¾ hot water topped with hot or cold milk and others prefer it quite milky so only use about a ¼ pot of hot water then milk to taste.
"Don't use too much milk because the fat in the milk supress' the flavours and if you put the milk in too soon it stops the extraction of the flavours and goodness from the spices."
Monique is continually developing and trialing new blends and is about to release a vegan-friendly blend that uses coconut syrup rather than honey as well as a caffeine free blend made using the red rooibos tea leaf from South Africa, "it has lots of anti-oxidant properties and the blend is designed for people who can't take caffeine for any reason because tea does have caffeine in it."
You will find Sunhouse Chai at a number of places around the region including at the Old Post Office in Upper Moutere, The Coffee Company in Hardy St, Rabbit Island Coffee at Mapua Wharf, Red Art Gallery & Café where they serve it too and online at www.sunhousechai.com
Monique has also designed a gift boxes that come with a bottle of sticky chai of your choice and a ceramic chai cup that's made by Jacquline Westall from Woodstock.
"Sunhouse Chai is your sunshine in a cup at any time of the day – Brew, Sip, Enjoy."