Located at the Grape Escape complex on the corner of McShane Road and the Appleby Highway The Junction is a little grocery store providing a beautiful range of wonderful artisan food products for you and me to enjoy.
The store is in the older building opposite the new Connings store and café and the owners are slowly evolving their artisan product offering and while they also stock a few premium artisan products from other regions the real focus is on premium, fresh local products.
It may not have the product range of a supermarket but The Junction does have incredibly good products, including the super-tasty range of salami's and sausages made by Miles Drewery at the Sausage Press and the delicious cheeses made by Little River Cheese using A2 cow's milk and Thorvald Cheese's sheep's milk cheese.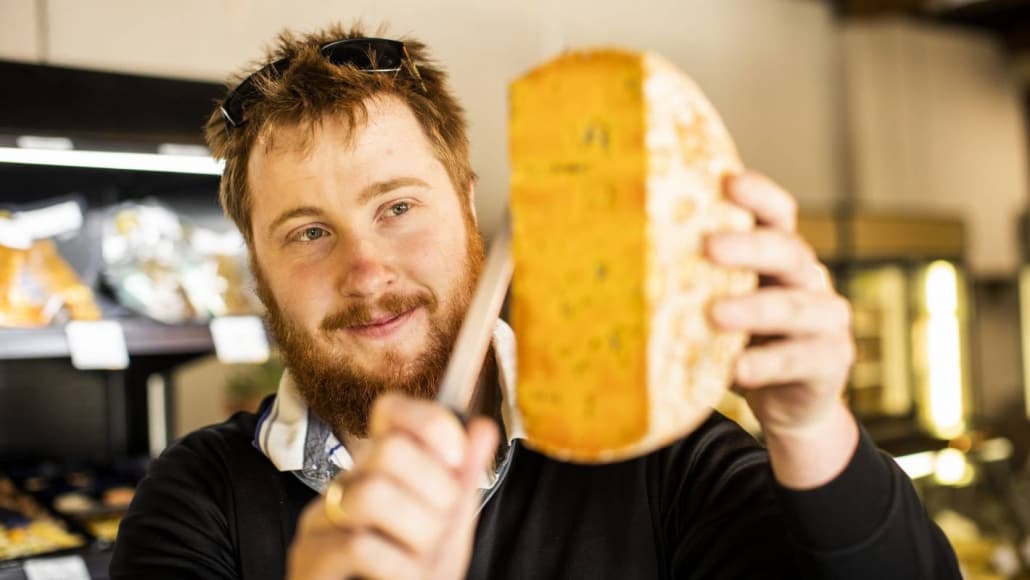 The Junction also has an Oakland's Milk fresh milk dispenser so you can refill your own bottle or swap your Oakland's bottle for a full one out of the chiller.
Then alongside jars of honey are bulk honey dispensers so you can fill your own honey container with the sweet, sticky liquid gold from Moutere Honey or maybe you would like a cheesemaking kit so you can turn that fresh Oakland's milk into homemade cheese. If so then The Junction has kits from Country Traders for you to buy.
A few of things really grabbed my attention when I stopped in, the first is the cabinet for dry-aging Nyama Biltong made locally by Tania Whitehead. Then there's the chiller cabinets packed with cheese, salami, pate made by Nelson's Craft French Pate and many other local artisan products.
The other thing that really impressed me at The Junction is the knowledgeable staff who will always greet you with a smile and chat, they are staff who know their stuff and none more so than cheese expert Virginnia Thomas. I met with her last week to find out a bit more about being a cheese expert and how someone with such a specialist qualification ended up in Nelson.
She explained there are different types of cheese expert, as you would expect there's the cheesemaker, you simply can't make great cheese unless you know the process, then we move along to the person who looks after the cheese at the factory, the affineur. They look after the care and ageing of the cheeses and in small businesses the cheesemaker and affineur are usually the same person.
Finally, there is the cheesemonger or fromager, the person who looks after the cheese in the shop or restaurant and Virginnia says that's the best title for her role at The Junction.
In 2017 she went to US and sat the American Cheese Society, Certified Cheese Professional exam, "it was three hours being tested on everything she has learned about cheese over many years, from types of cheese to how to store and serve them as well as various cheese flavours.
"In the US being a cheese professional is seen as a career similar to a wine sommelier or coffee barista and this qualification gives the person credibility as an industry professional."
Virginnia is a Kiwi and had always enjoyed a nice cheese but her passion for it was ignited when she went on holiday to Sydney where  visited one of Simon Johnson's cheese rooms, "I decided right then in that room that somehow cheese was going to be my future so I packed up my life here, moved to Sydney and that was the beginning of a life of discovering the magic of cheese."
Virginnia spent twenty years in Australia working with some of the world's biggest names in the industry, "Simon Johnson the first person in Australia to have a walk in fromagerie room was my mentor at the beginning, then I worked for Will Studd for a number of years". You may remember Will from his television series 'Cheese Slices'.
"Will has done some amazing things for cheese in Australia, he worked tirelessly for a number of years at great personal cost to allow fresh, unpasteurised cheeses like Roquefort to be allowed back into Australia. At the time he was even threatened with being arrested for bringing these cheeses in.
"He is one of the reasons we can have unpasteurised raw milk products in Australia and New Zealand."
Over this time Virginnia developed her own high profile in the cheese industry and in 2012 she was  recognised by the Guilde International des Fromagers in France for her work with French cheese in Australia. "One of the other people inducted at the same time Neil Perry was who was recognised by the French for being a chef who promotes and uses French cheese in Australia."
She says the things that are exciting about the New Zealand Cheese industry is the freedom we have here to work with various types of milk, "having spent so long working with European cheeses that have very restrictive rules there is a real freedom for cheesemakers to experiment and express their skills here.
"In Europe for example certain regions have to use certain cows and can only make certain cheeses in that region, New Zealand isn't restrained or constrained by hundreds of years of tradition, we have wonderful raw materials in the milk we have and no one is saying you can't do that with this milk and cheesemakers are just doing stuff with incredible results."
The cheesemaker behind Little River and Thorvald cheeses, Francis, is well known for experimenting, usually with delicious results.
Virginnia compares New Zealand cheese to New Zealand wines, "I love the whole concept that cheese here has its own identity depending on where and how it is produced, just like New Zealand wine it is a product that reflects the place it is produced, and the cheese being made by some producers here is absolutely world-class, just as the rest of the world sat up and paid attention to our wines, they are now paying attention to our cheeses."
At The Junction Virginnia cares for great cheeses from a number of producers, from Meyer Gouda's, to the Mt Eliza Cheesery cheeses who are one of only three in New Zealand making raw milk cheeses, " their two cheddars are from raw milk, their blue isn't but it's world class and flippin' delicious.
"Cranky Goat are doing some really innovative stuff with their goat's milk cheeses and this is where it turns the full circle to my cheese career, my father can't eat cow's milk cheese so he was buying Cranky Goat at the market and when I said I was moving back to Nelson he took me to the market and they put me in touch with Dave Barrett whose store at The Junction allows me to pursue my passion for cheese."
So next time you want to buy, taste or learn about cheese drop in to The Junction and have a chat with one of the most qualified cheesemongers in New Zealand, Virginnia loves to talk cheese!