First published in the Nelson Mail 16.01.19
One company making its presence felt in Nelson is Oakland's Milk, their A2 protein milk has been available in market-leading dispensing units for some time but in recent months it is being turned into ice cream and used in cheese making. To find out what makes A2 protein milk different, to what I will call ordinary milk, I met with Julian and Cathy Raine, the current custodians of the Raine Family Farm and the people behind the Oakland's Milk brand.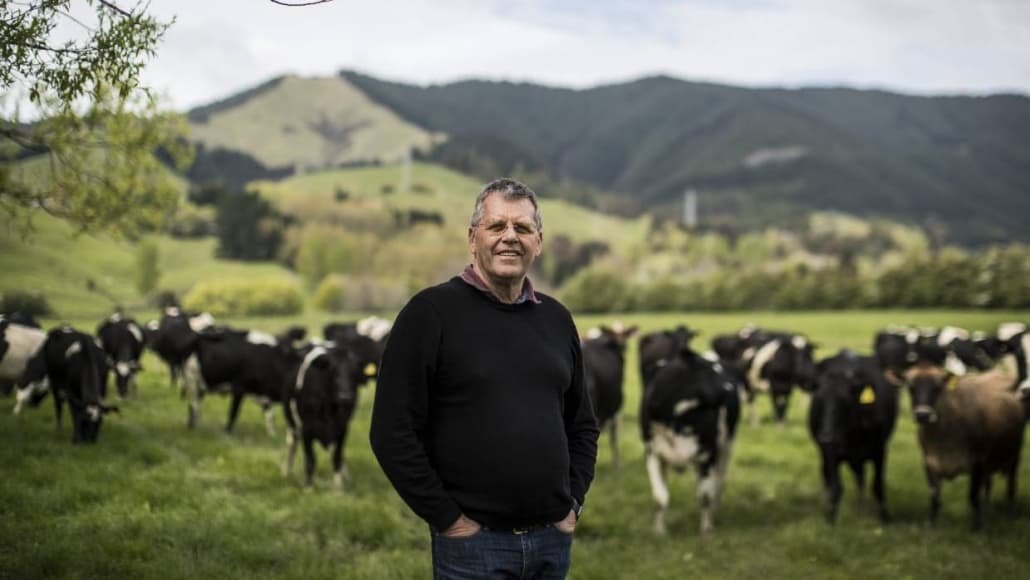 Known as Oakland's the farm is one of only two working dairy farms in Nelson City, it adjoins the residential area around Saxton Road in Stoke with the farm overlooking the Saxton sports complex, and has been in the Raine & Saxton families ownership since 1842, "we have been supplying milk to Nelson region for close to 100 years and we are always looking at how the industry is changing" says Julian.
"The farm is owned by the Raine family, we just run it. Dad lives next door and our son Tom and his wife Hannah work in the business, Hannah in the office while Tom is responsible for the business from the vat to customer, they are the next generation."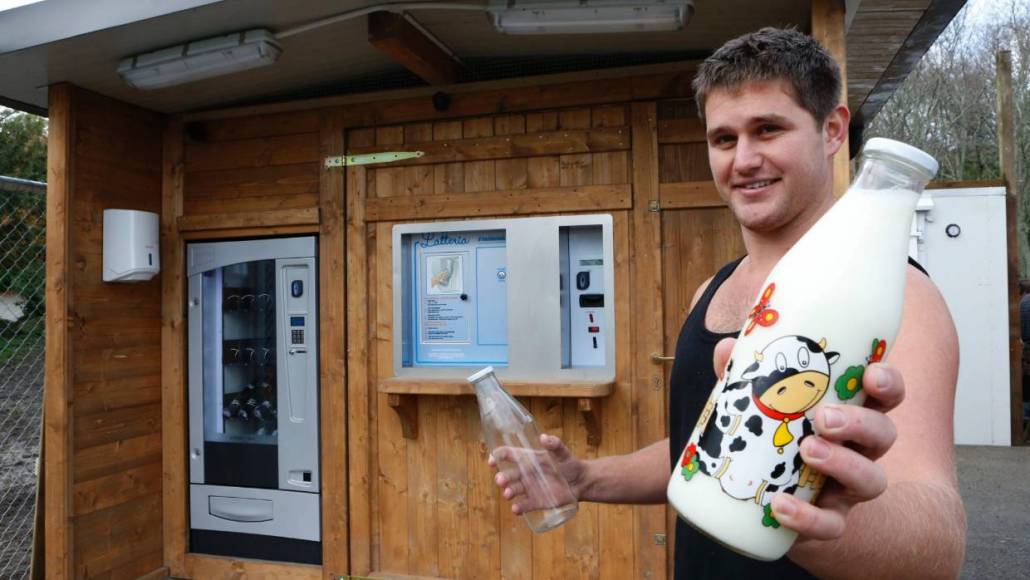 I had a number of questions for Julian; I wanted to know exactly what is A2 milk, why are they creating their own direct-to-market pathways and about some of the challenges they have faced along the way.
So first up what is A2 milk? "It is quite simple really", says Julian, "A1 milk has a particular amino acid in the protein that A2 milk doesn't have. 
"The cows have a double milk gene, it's either A1A1, A1A2 or A2A2 and it's the double A2 gene cows that produce A2 protein milk.  
"Without getting too technical the double A2 gene cows produce milk with a different type of beta protein that was discovered in the 1990's, I'm not sure who by but the late Howard Patterson filed a heap of patents and the A2 Corporation was formed around the same time.
"They send me letters when I talk too much about us having A2 milk because that is a trade mark, so I need to be careful how I describe the milk that comes from my double A2 gene cows.
"We originally had 600 cows and 150 of them had the double gene, we carried out genetic testing of every cow and then we ran a breeding programme over the last five years to build up the number of A2A2 cows.
"We sold all of the calves with an A1 gene, only keeping double A2 and eventually sold the balance of our herd that had the A1 gene, so we are now are 100% A2A2. To be safe we still test every single calf born each year to ensure the integrity of the herd and we also send our milk to a specialist milk testing lab to make sure it is all A2 protein milk, it's all about the integrity of the product."
"We started selling our milk in via vending machines because I had seen them during my trips to Europe, they are quite popular in small centres in France, Italy &  Germany where you will find a couple of vending machines in many villages.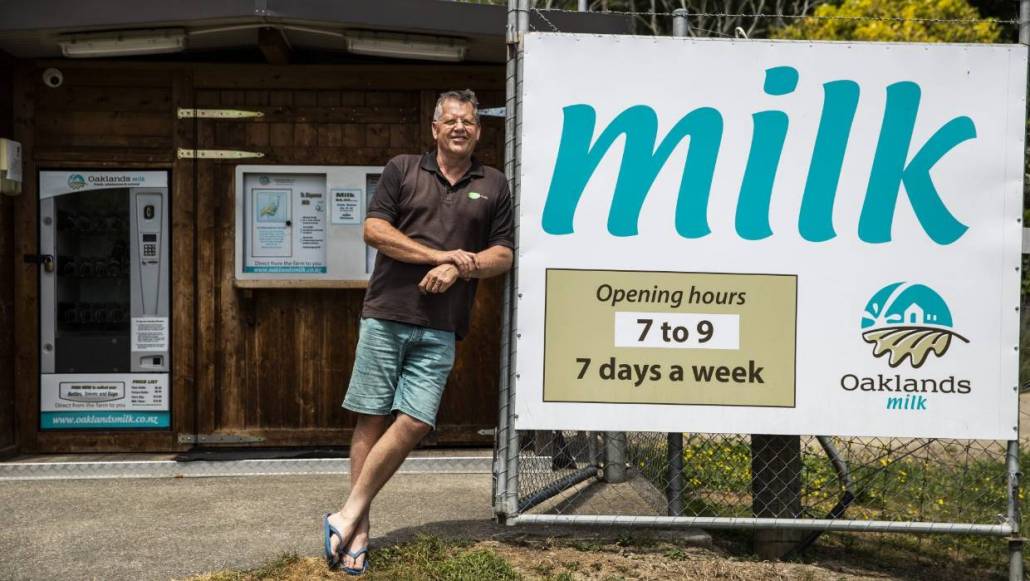 "They have quite a different milk tradition to us, they either have raw milk or UFT treated milk, they don't tend to have fresh milk that has been pasteurised. Raw milk is accepted in Europe, here it is a little more difficult, all of our milk is pasteurised but not homogenised; pasteurisation is where we raise the temperature of the milk to 73 degrees for ten seconds and then very rapidly cool it, homogenised milk is passed through very small holes to smash up the fat particles. 
"Homogenised milk is what you generally buy in shops, we don't do that, and we feel because of those two attributes people find our milk more digestible. We also don't add any extra permeate back into the milk."
"Permeate is a natural milk product that can be added back to processed milk, but it is mostly lactose so lactose intolerant people are getting a significantly higher level in ordinary milk and that is one reason people find our milk more digestible."
Oaklands milk is also delivered to customers in reusable bottles, "people can fill their own bottles from any of our seven dispensing machines in the region (two at the farm, The Junction at the Grape Escape complex, Benge & Co in Richmond, The Pantry in Stoke, Mean Green in St Vincent St and River Kitchen Café). 
"Milk & More also have our milk for home and business delivery on a swap-a-bottle basis.  
"By using reusable and recyclable bottles we  save over a million plastic containers from going to landfill each year, we are finding people are turning back to glass bottles and home delivery. Milk and More started delivering to homes and businesses in Blenheim in October last year and it has just exploded over there, it's gone from a good idea to three people employed delivering milk in just a few months."
It's fair to say the Oakland's milk product has been very well accepted by the community, "we have had a huge amount of support from local people and we now supply milk to over 100 cafes and restaurants across the region and we have stock in stores that do swap-a-bottle (Riwaka Garage, Beetroot, all Benge & Co's, the Old Post Office at Upper Moutere, the Mapua Country Store) and Little River Cheese, Via Vio cheese and Penguino's all use our milk.
"We were looking at what else we could do with the milk and that lead to setting up Appleby Farms Ice Cream with fellow A2 protein milk producer Murray King and other investors.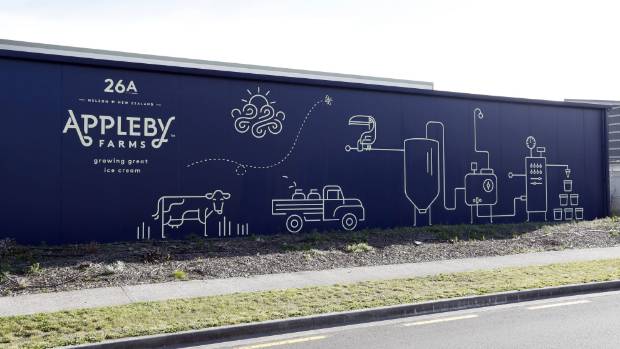 "We just want to be masters of our own destiny really which in a way turns the clock back to Nelson  Milk days when local dairy farmers owned the production and distribution of their products."
At the farm they also host around 300 people a year, most in groups and mainly school kids aged from kindergarten to university for an on-farm experience to understand how farms work, "a lot of people have lost touch with where their food comes from so it is a nice way to educate people about what happens on a farm, we are able to provide a glimpse into that and the farming practices that occur that they simply have no idea about."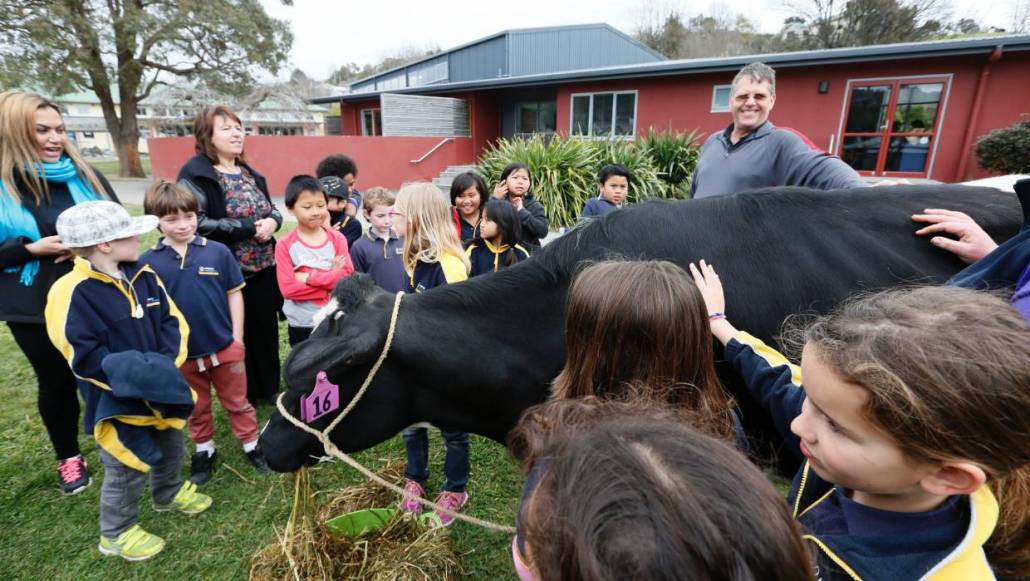 The Raine family have their own dairy factory on the farm to process and bottle their milk on the farm so control the process from the paddock to the bottle and I like that, it gives consumers a direct link to the delicious milk product they are buying.