Flavio Donati and Flavia Spena set up ViaVio Cheese at the end of 2016 and, after five years ViaVio is now an artisanal cheese business that has grown into a premium cheesemaker supplying restaurants and retail outlets around New Zealand with a range of stunning, handcrafted and award winning cheeses.
Getting to this stage was a long and winding road for this couple who were first introduced to New Zealand way back in 1993 when Flavio came and played rugby here and his Benetton team in Treviso, Italy, was being coached by Wayne Smith.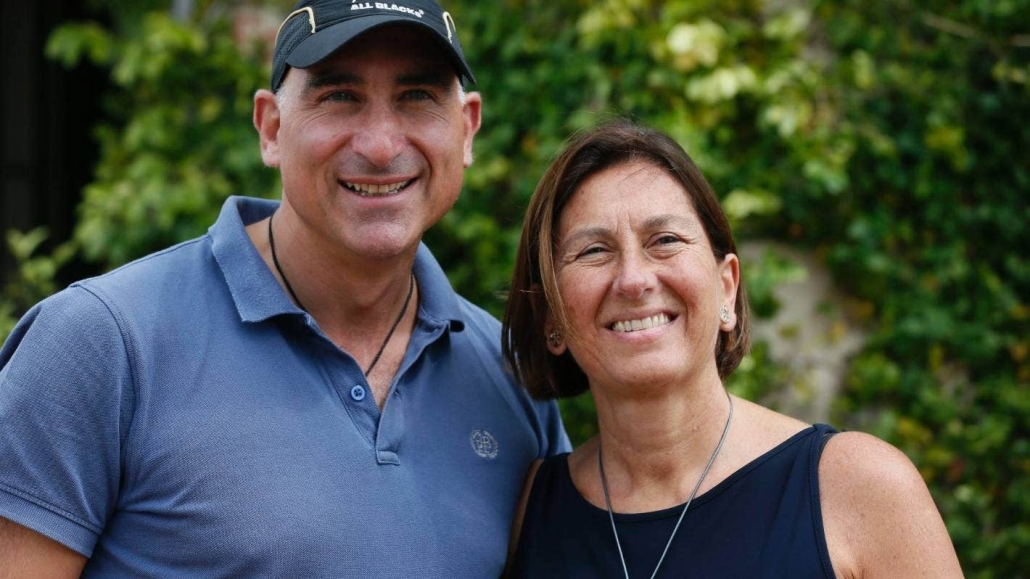 Rugby brought Flavio and Flavia to New Zealand, and a decade later, they wouldn't want to be anywhere elseFlavio and Flavia are both from Rome and are passionate about good food and rugby. Flavia had spent 25 years as a top executive/CFO working for the international jewellery company Bulgari while Flavio was a professional rugby player and says, "because of rugby we had been coming to New Zealand a lot, we have lots of friends here and when we came for the RWC in 2011 we started thinking that we would like to create a new life in New Zealand.
When they visited Nelson in 2014, former Mayor, Aldo Miccio, put them in touch with Julian Raine from Oakland's Milk who were to provide the A2 milk to a little mozzarella cheese factory, which was being setting up by two Italians. "Shortly after this the two Italians contacted us asking if we would be interested in purchasing the cheese factory.
"We really liked Nelson but what we missed the most here was cheese, so we thought it would be nice to make Italian style cheeses using wonderful New Zealand milk. We thought that, by chance, we had found the opportunity to set up our business in a nice place and with a great milk supply, we decided to do it"
The couple were excited by the potential of this tiny operation but they knew that their project had to start by creating a new brand and expanding the range. They wanted to create a brand that reflected their Italian heritage together with a New Zealand touch that would eventually work in the export market too because they realised New Zealand had no artisan cheese brand in the international market.
Flavio says "Export is still a way off for us but the brand is important so we can grow.  This is how ViaVio was born, the combination of both our names in a traditional design with the four stars of the NZ flag."
He says, "With Italy having more than 1000 different types of cheeses, we found the variety of cheeses in New Zealand very limited, but the quality of the milk is exceptional" so they bravely decided to introduce some of these traditional Italian cheese styles to the New Zealand market.
The opportunity to collaborate with Oaklands Farm to source a supply of fully traceable quality local A2-tested cow's milk was instrumental to the new brand.
"We started from zero and had to learn everything about cheese making, complying with New Zealand regulations and, more important, New Zealand consumers' taste and habits"
"It's quite different to how things work in Italy, both in the regulations around cheese making and the culture of eating cheese. In Italy, people buy quality, fresh cheeses every day. Italians eat many fresh cheeses like mozzarella, stracchino or ricotta. They buy today and eat today. Here, everyone looks for shelf life, how long will it last? Cheese is a living product and keeps changing therefore, even if it lasts, the flavour will not be the same, so we say buy it and eat it fresh!"
The second big difference between cheese consumption in New Zealand and Italy is that cheese can be the main protein in a meal, according to Flavia "fresh mozzarella is rich in calcium and is very healthy so should be eaten with salads or any vegetable as the protein instead of fish and meat."
So why are their fresh cheeses so good compared to other brands on the supermarket shelves? Firstly, they have employed an Italian highly skilled Cheese Master who has more than 25 years' experience making cheese, "Nicola (male in Italy) has making cheese since he was 15, he studied as a Cheese Maker for five years and managed a family cheese business for many years, so he understands the business as well."
The other key thing that makes ViaVio fresh cheeses so good is that they are made using a natural culture, those made as a commodity are made using citric acid to create the initial curd. Flavia also told me most of the imported mozzarella you can buy in tubs of liquid are actually frozen, shipped to New Zealand and thawed here.
"We make a natural product, but we find there is general lack of education in food knowledge in New Zealand, people are very trusting and don't always find out exactly where their food comes from and how it's made. In Europe there were many food scares years ago, so people make sure they know what they are eating.
"We think supermarkets and other retailers should put clear information about provenance in order to better guide consumers in making their choices. The milk in New Zealand is so good that there shouldn't be a need to import frozen cheeses."
ViaVio have an impressive number of premium NZ Cheese and NZ Outstanding Food Producer Awards for all of the cheeses and the yogurt they produce. Flavia says "there have been a lot of obstacles, but we look back and, after a few years, we have moved to a new country, started making a product we had never made before and created a business, so we have done quite a bit. We also want to be part of the new food movement in New Zealand to buy locally made, excellent product using premium ingredients."
The vision Flavia and Flavio had for high quality Italian style cheeses made with traditional Italian know-how and the very best natural local New Zealand ingredients has come to fruition, ViaVio is now producing and supplying the very finest quality products made solely with natural local ingredients and no added preservatives for all like-minded discerning foodies.
You can find out more about the exceptional cheeses they make using locally sourced A2 milk and order online at www.viavio.co.nz .