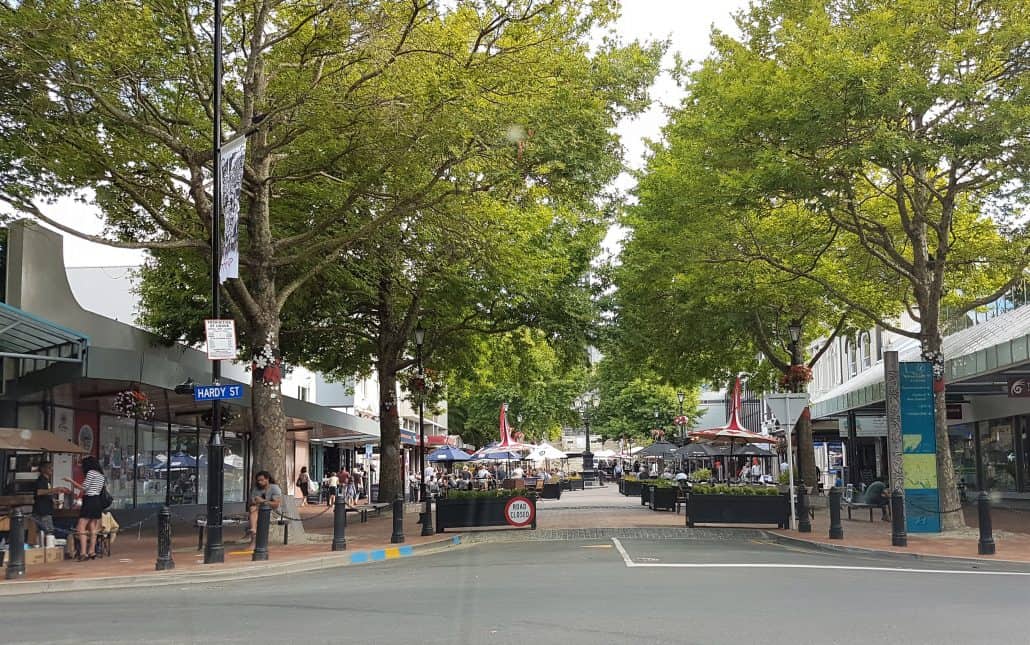 In case you hadn't noticed the top end of Trafalgar Street has been opened up, Nick Widley from the Cod & Lobster Brasserie says "the road hasn't been closed, it has been opened up and made more accessible."
Having spent some time walking around the area last week and watching the space being enjoyed while I talked with Nick I couldn't agree more, well done Nelson City Council and the businesses in the area that have embraced the street opening.
Working with Harry's Bar next door the two venues have created a perfect outdoor entertainment area with a small stage for regular live entertainment over the summer months while the Cod & Lobster has set up a small outdoor bar selling just three drinks.
Other hospitality venues are doing similar things and they are all talking with one another to coordinate entertainment so everything that happens is complimentary and enhances this great summer space.
The three drinks being sold by Nick and the team at Cod & Lobster are based on two of their most popular cocktails, something they specialise in, and a nice refreshing beer.
Cod & Lobster Brasserie was established Nick and Kymberly Widley in 2015 in partnership with Kymberly's parents, Des and Julie King-Turner, and brings together the fishing heritage of the King-Turner family and Nick's passion for seafood, cocktails and quality dining.
Nick started training as a chef in the UK but found he much preferred engaging with customers rather than being tucked away in a kitchen, "formal restaurant kitchens with no windows drove me crazy but it did give me huge respect for chefs and what they do, I also learned about how a kitchen works and how the interaction with front-of-house staff is important in ensuring the whole dining experience is perfect for the customer, great food and good service by themselves don't make a successful business, it is how the whole ship runs that really matters."
Nick says when he gave up cooking school he had to get a job to pay the bills "my sister gave me a part-time job at a cocktail bar she was running in Devon, it was a comedy club and live music venue and she was running, I ended up working full time and learned a huge amount about cocktails", he says it was where he first fell in love with the interaction with customers and cocktail making.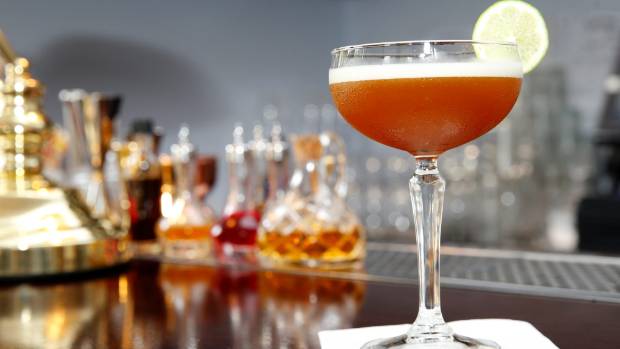 He ended up moving to Cornwall and at the ripe old age of 22 was running an over 25's cocktail club, "I was always the youngest person there" before going back to Devon where he ran a mobile bar business along with a bar training and consulting service, "I helped train staff and reorganising bars to speed up service as well as sharing the bar service knowledge I had learned working in high end cocktail bars to show bar staff how to prepare and serve drinks properly, how to enhance the customer experience rather than just pouring a drink."
In Devon they had the Plymouth Gin Distillery on their doorstep, "it has a lovely kitchen bar called the Refectory Bar and they had 200 cocktails on the menu and I picked up their passion for everything gin, the more you know about a product the more you are going to enjoy it and that knowledge and learning is something we try and translate for our customers here so they understand what we are doing and why."
It was an iconic New Zealand distillery, 42 Below, that drew Nick to New Zealand when he decided to travel the word.
He met Kymberly in 2011 and when they opened the Cod & Lobster in Nov 2015 they wanted to create a venue that encompassed the offering in the Mediterranean areas of southern France, Italy and Spain, "as well as those familiar old French herb and spice flavours, not hot but flavoursome, we wanted to have the whole indoor/outdoor dining experience with outstanding service in a relaxed space."
Their new head chef, Helen Mainland, came from Wellington where she had worked at Logan Brown but had previously worked in many kitchens and countries around the world, including in India "she has an amazing appreciation of spice flavour and loves the same sort of cooking we do", she had also previously worked at Ford's which is where they first crossed paths.
Ben Knight is the sous chef and came to the Cod & Lobster from Fish at the Hilton in Auckland, and then there are the bar staff, "with the number of cocktails we serve every day I couldn't have done it on my own so we were very fortunate to find Pete Coates, he was a barista and an actor, who joined us when I needed someone to work the bar while I had a night off.
"He took to it like a fish to water, he took the whole cocktail menu like it was a script and learnt as much as he could, making great cocktails is like an addiction and he knows so much about the spirits we use, sitting at the bar while he is making cocktails is like getting a history lesson."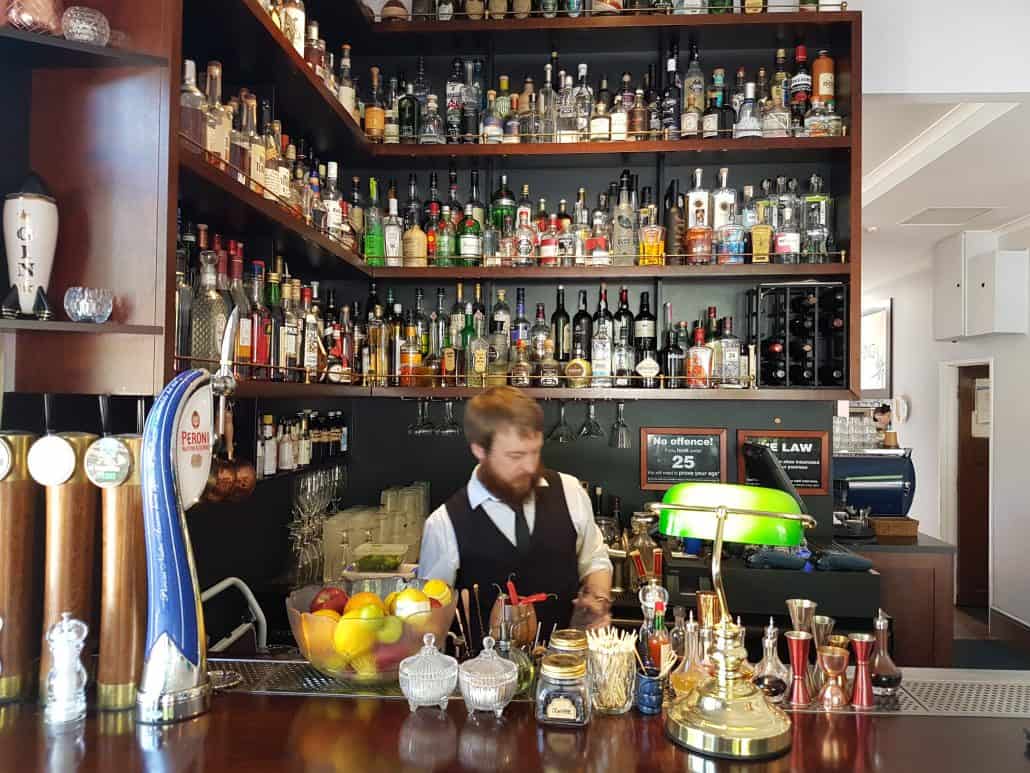 As well as cocktails Cod & Lobster specialises in gin, why gin was my obvious question? "It is one of those doors that once it's open it's hard to shut, there are over 5000 gins on the market worldwide, and we have the world's largest collection of New Zealand gins and New Zealand's largest collection of gins, 165 in total, there is a place in Singapore that has over a thousand different gins but they don't have as many New Zealand gins as us.
"The variety gin offers is huge, just like wines are made with different grapes, gin is made from different spirit bases and producers use a wide variety of botanicals to create their individual signature flavour,"
With so many gins from around the world it surprised me to learn his favourite gin is made in Takaka at the Dancing Sands Distillery, "they age their gin in old rum and new French oak barrels, they blend the two and have hit the sweet spot for the perfect gin."
Back to that outdoor bar and entertainment area, Cod & Lobster are making the most of opening the street to people rather than cars and the small portable bar will take the pressure off the indoors bar, "the idea is we can serve Peroni beer, Negroni (a cocktail with equal parts gin, Campari and sweet vermouth) which is a perfect summertime drink as well as an Aperol spritz (Aperol, soda water and prosecco) served in a wine glass with ice, orange and an olive.
"I feel these have a cult following, are all summertime drinks and as a group make a perfect combination for the outside bar this summer and I think will let us do our bit to enhance the visitor experience, it is all about synergy in the street and making the top of Trafalgar Street the go-to place this summer.