When I told you about Flaxmore Vineyards a couple of years ago they were a new label in the Nelson wine scene. In the intervening years owners Stuart and P have been busy establishing a cellar door facility and recently added an art gallery next to the tasting room. I thought it was about time for me to visit them again to check out the changes for myself and I'm delighted I did.
Located on Flaxmore Road, off the Moutere Highway on the northern fringe of Upper Moutere, the couple established Flaxmore Vineyards in 2008, supplying grapes to Neudorf Vineyards since 2011 and launching their own label in 2018.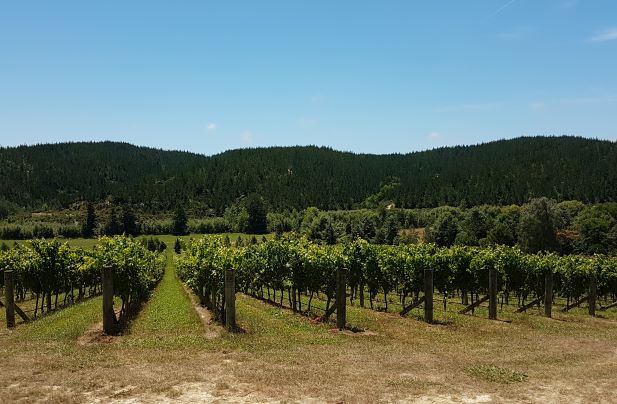 The rolling hillside that used to be an apple orchard is made up of Moutere clay/gravel soils that have proved to be exceptional for grape growing. Add to that the free-draining, gently sloping hillside facing north – north/west aspect and it is no surprise the wines being made from fruit grown on this vineyard have wonderfully complex flavours and textures.
Stuart told me that people are becoming familiar with the label and the elegant style of wines they are producing, which reflect their unique site, micro-climate and careful viticulture "since we opened the cellar door a year ago people have found us quite easily. We are also seeing a lot of repeat cellar door visitors as well as a strong following from outside Nelson."
The cellar door facility and recently added art gallery are certainly worth the small effort it takes to visit Flaxmore Vineyards, "we put a lot of effort into creating a modern tasting room that retains the apple orchard heritage of the building; although we're modernists we also respect the history of the site."
The tasting room is the old apple sales and dispatch area that Stuart relined with rough-sawn timber planks as a nod to the history of the building, but the tasting table is sleek and modern, it is also due to have an aged copper top added.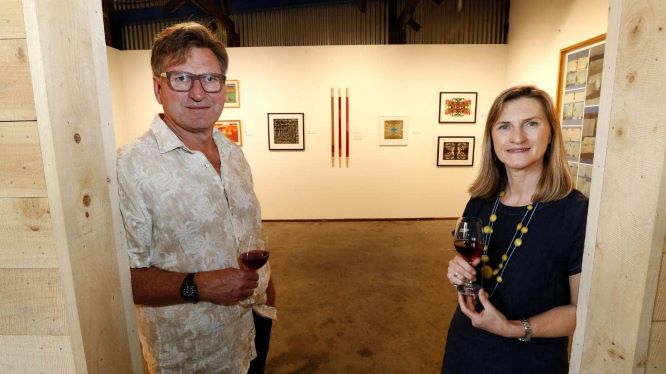 The adjoining art gallery is currently exhibiting some of Stuart and P's personal art collection, a few local artists' work as well as some of Stuart's own. He manipulates digital photos to create unique works of modern art.  P says "as time goes by we want to exhibit the work of more local artists so we can support the local arts community too."
The couple have also developed a walking track through the vineyard, which takes you to an elevated point with fantastic views of the Kahurangi ranges and Mount Arthur. I asked them about the risk of people doing damage in the vineyard, P said "because we are small we can control what happens in the vineyard, so know when it's safe to explore the vineyard. People are generally very respectful of the facility and we think that's a good thing to help people understand what we are doing here".
As New Zealanders are having holidays at home many are visiting vineyard tasting rooms and direct to market sales are important for these labels, "if you're small it's the best way to connect with customers and is working very well for us" says P.
So as we enter 2021 make it a mission to visit local producers at their place as well as buying their products from the shelves at the store, you will get to talk to the people who make these wonderful products and understand what makes them so special.
Have a fantastic 2021 and put Flaxmore Vineyards on your must-visit list.
Wine picks
Flaxmore Vineyards 2020 Rose RRP $19  – 4.5*
Made from Pinot Noir fruit that was grown specifically for this rose the very pale salmon colour sparlkes in the glass while light, fruity aromas have a background powdery mineral notes thanks to the Moutere clay soils. The flavours of light summer berries are bright and clean with ripe acid freshness in the long finish. A delightfully fresh summer wine that is outstanding value for money.
Flaxmore Vineyards 2020 Pinot Gris RRP $22 – 4.5*
Again, the Moutere clay soils shine in this wine, the full and lush palate has a familiar powdery mineral note. It has lovey fruit characters without being overly sweet, delightful mid-palate fullness and a long juicy finish that has a firm tannin characters that balances the juicy acidity. This is another outstanding value for money wine from an emerging star in the Moutere sub-region.
Published in the Nelson Mail 06-01-2021