I recently discovered another great food cart, Rea's Tacos, that has recently been added to the growing number of mobile food businesses in Kirby Lane and I caught up with Laura Rea (pronounced Ray) last week to find out why she decided to earn a living by making food in a mobile cart. And, of course, to find out the secrets behind her wonderful tacos.
Laura told me she has had a lifelong love of food, everyone in her family are foodies, "there has always been interesting food in our lives, great food is just part of who I am, but I have never had a job cooking food."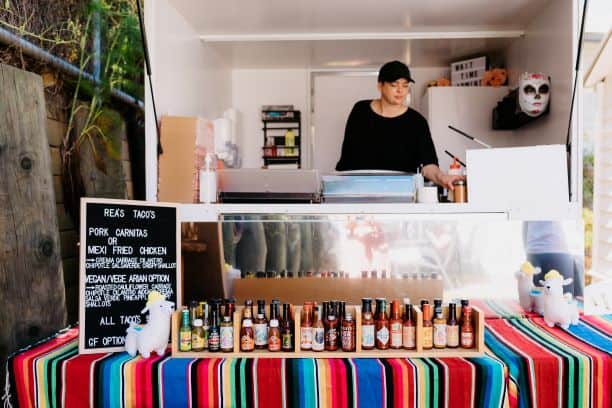 Her background in the hospitality sector has been front-of-house rather than in the kitchen, "I have done most things in the industry except cook in a professional kitchen, I'm just a massive foodie and always have been.
"I wanted to be my own boss and I knew I needed to do something with my passion for food, I feel like I was born to be in food, it feels like it's meant to be and during lockdown I decided to take the first step by turning some of my hundreds of recipes into a cookbook, but part way through I talked with my partner about wanting to realise my dream of starting a food cart."
"I had worked in the Ebo Coffee cart outside the Warehouse years ago so knew what it takes to make a great food cart and it seemed Nelson was missing a good taco stand. My partner, Luca, said he would support me because he knows I am really passionate about it, if he wasn't as supportive as he has been I wouldn't be in this position of doing something I love."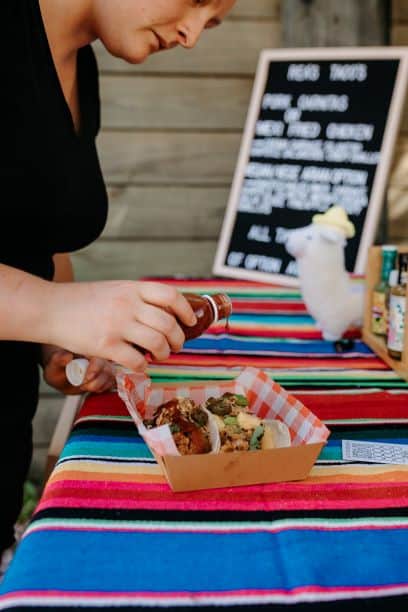 Laura said the experience she had working in restaurants like The Boatshed, Harbour Light Bistro and at Burger Culture showed her what was needed to be successful in the food business so she wanted to start small and gradually expand her offerings.
She worked at Burger Culture for three years working front-of-house, "I loved it there but knew inside myself I just needed to do my own thing. Chris and Zoe Williams (co-owners of Burger Culture) have been really supportive, they supplied me with donuts to sell at Bay Dreams and when I went in to collect them Chris welcomed me with a big hug and asked how the business was going.
Zoe has been my mentor since the day I told her I was going to do my little business, she has helped me out with business planning, graphic design, web design, branding, logo's, menu design and so many other things. She has set up a number of businesses so really knows what she is doing, I am so grateful for their support."
Laura and Luca have an 18 month old little boy so starting a "brand spanking new business on the 1st December" was a real leap of faith but it has been very successful so far. "The cart is very small so I have  a limited menu at the moment, I do all the food prep in a certified kitchen at home but I already have people asking me to cater for them. I catered at Kismet on New Year's eve and am working on another function with them at the moment, also I was the only food cart in the VIP area at Bay Dreams."
So what makes Laura's Tacos so tasty? "To start I am using white flour tortillas that are made by Farrah's, they are great quality and easy to work with but I am experimenting with making my own, including a corn flour tortilla. I have a couple of standard fillings and then try and have a special each week."
The standard flavours include the Mexi Fried Chicken "which is a recipe that I developed, I came up with my own dredge that is my version of the famous '11 secret herbs and spices' but with a real Mexican twist."
The Pork Taco is packed with pork shoulder that has been slow braised for 12 hours in citrus and spices. While the vegetarian taco is made using cauliflower that is dipped in her soon-to-be-famous flour spice mix and deep fried.
Every taco comes with freshly shredded cabbage, fresh squeezed lime juice, crema that is house-made, crispy shallots and La Morena chipotle sauce, "it's my favourite sauce in the whole world, people love it and want to know where I get, because I want to have it for my customers we are about to start selling it for people to take home."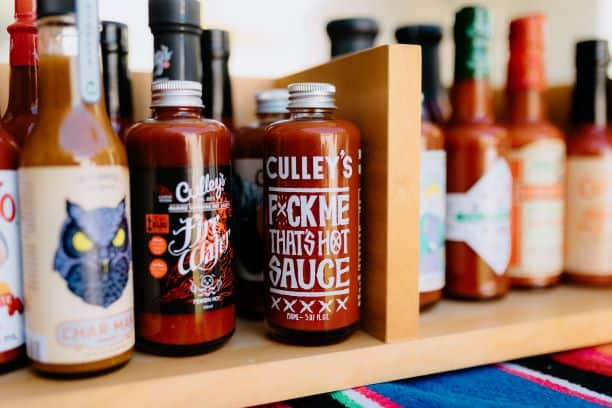 At Rea's Tacos Laura has over 50 hot sauces and salsas for you to use on your tacos, "I believe it is the largest range in Nelson and possibly in New Zealand" and like the other add-ons (jalapenos, pineapple relish and pickled red onions) they are free for customers to use.
"This is just the start, I want to add to the cart, as we learn and as people tell us what they want we will expand the options, like take home packs that have everything you need to make delicious tacos at home, including the cooked meats."
Rea's Tacos is open in Kirby Lane from Saturday to Tuesday each week for lunch and appears at various festivals and events around the region. I think this is a fantastic addition to the Nelson food cart scene and is well worth checking out.