When the operators of the restaurant facility at Seifried Estate closed up and went away very suddenly a few years ago the Seifried family said they wanted the right operator for the business, not just someone who was prepared to pay the rent.
Over the last few years they have had a number of people look at reimagining the restaurant and function venue but only recently found the perfect people, Brigitta Young and Tony Cropp who will be running the new restaurant at Seifreid Estate called Harvest Kitchen.
When McCashin's didn't renew their lease at the brewery in Stoke they saw the opportunity to use their skills to create a business at the Seifried Estate facility that caters for families, businesses and for functions.
They bring a lot more experience to this new venture than just the café at the brewery, Brigitta has a background as a chef and in running a catering business too while Tony runs the green timber plant at the Eve's Valley sawmill so brings lots business management experience to  the party.
This combination of skills and experience makes them the perfect operator to kick-start a new winery restaurant and functions business and Seifrieds are really excited to have a couple with the right skills and understanding of the local dining scene operating the restaurant facility, "Anna Seifried has been incredible, she has project managed the whole thing for us, she has been here every weekend painting, mowing lawns and helping us to get up and running" says Brigitta.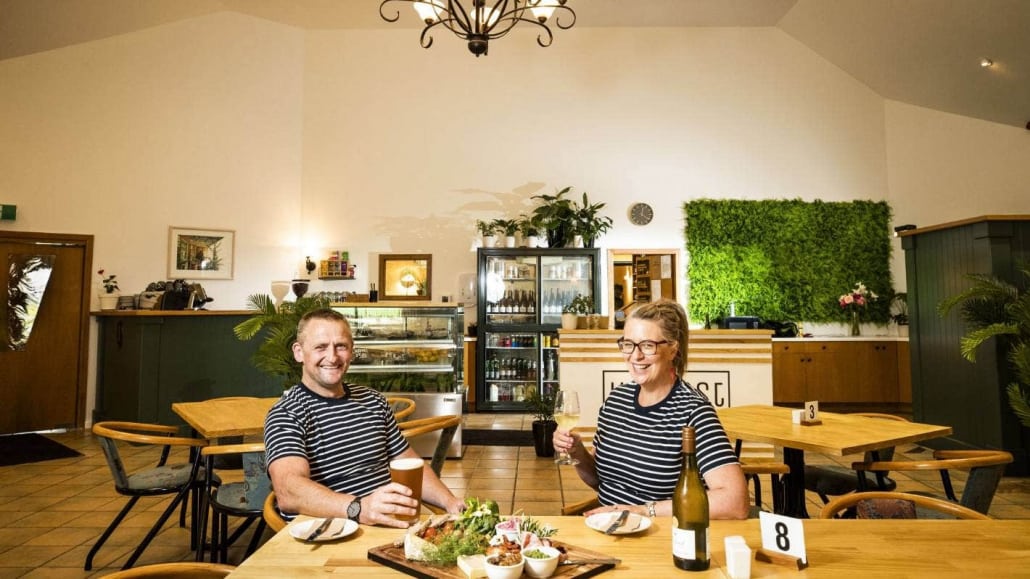 "We have been working tirelessly for the last two and a half months, we have repurposed tables, painted and re-stained furniture, repainted the interior, built new leaners, refurbished all the outdoor furniture, built an outdoor service area and just everything else you need to do to get a facility that has been in hibernation back up and running again."
About 80% of the team from McCashin's came with them to Harvest Kitchen, "most of them waited for us to open the new business, some don't drive and it's a bit tough for them to get out here when there just isn't a public transport option for them for the hours we are open."
The facility has a fantastic kitchen and is fully stocked with lots of crockery, cutlery and glassware so the couple didn't have to invest in a huge amount of  stuff to be able to run large functions and events and just focus on lifting the quality of the food.
At Harvest Kitchen Brigitta isn't going to be working as a chef, Tony says "someone needs to be running the business, selling and promoting the business and dealing with all the paperwork, a business this size needs someone to run it."
Because Brigitta is a chef she does understand the needs of the chefs so can make sure they have everything they need to be able to create wonderful food while she can use her experience to keep control of kitchen costs.
"Our head chef is Stephen Ward who was head chef at McCashin's and Angela White is the restaurant manager, I tell her she's the boss so she tells me what she needs" says Brigitta. "We also really value our staff, we set the standards we expect and find the right staff then look after them."
"So far bookings have been fantastic with most weekends between now and Christmas booked up and lots of enquires for weddings in 2021, in fact we have so many bookings we will probably need to hire a third chef soon."
"We also want to support other local businesses by using lots of the fantastic food and beverage products made in the region, we will be serving Seifried Estate wine, Hop Federation Beer (on tap as well as bottled) and Capital Cider."
Tony told me that at the end of the day they just want to do good food and run a great business in the beautiful Seifried Estate vineyard location not too far from Richmond and I think they are most certainly the people to deliver on their promises.
Wine picks
Blackenbrook Pinot Noir Rose 2020 RRP$25 – 5 stars
Made from 100% Pinot Noir this is another Blackenbrook wine where the purity of fruit shines. Lovely ripe, spicy aromas of red currants with a hint of creaminess it has a beautiful texture, a texture that is rich and rounded on the palate without being sweet.
The perfectly ripe fruit is balanced with juicy acidity and a touch of astringency in the long finish. For a dry wine this outstanding Rose is richly textured, a perfect food wine and is dangerously easy to drink.
Seifried Nelson Sauvignon Blanc 2020 RRP $18 – 5 stars
The mouthfeel is weighty and luscious, juicy and mouth-filling rather than lean as many Sauvignon Blancs can be. The ripe citrus passionfruit flavours with background currant notes balanced with ripe but zingy acidity make this a super delicious wine with a delightful juicy and very long finish.
At the Mundus Vini Summer Tasting 2020 in Germany this wine was awarded a gold medal and named as 'Best of Show New Zealand' making it the best wine from New Zealand at one of Europe's largest and most important wine shows. It was also awarded a gold medal at the Austrian Wine Challenge Vienna 2020 proving it is another Seifried Estate wine that's exceptional value for money.
Published in the Nelson Mail 04-11-20