Any business owner will tell you that to succeed you need to keep moving your business forward; if you sell a service then you need to make sure you keep improving and delivering value for money, but if you make a product then you need to keep innovating because human nature means we get a little bored with the same old things and want to try new flavours.
One business that knows all about exploring new flavours is Proper Crisps, they started with a humble but perfectly formed salted potato crisp but have expanded the range of flavours they offer as well as using different vegetables to make their delicious crisps.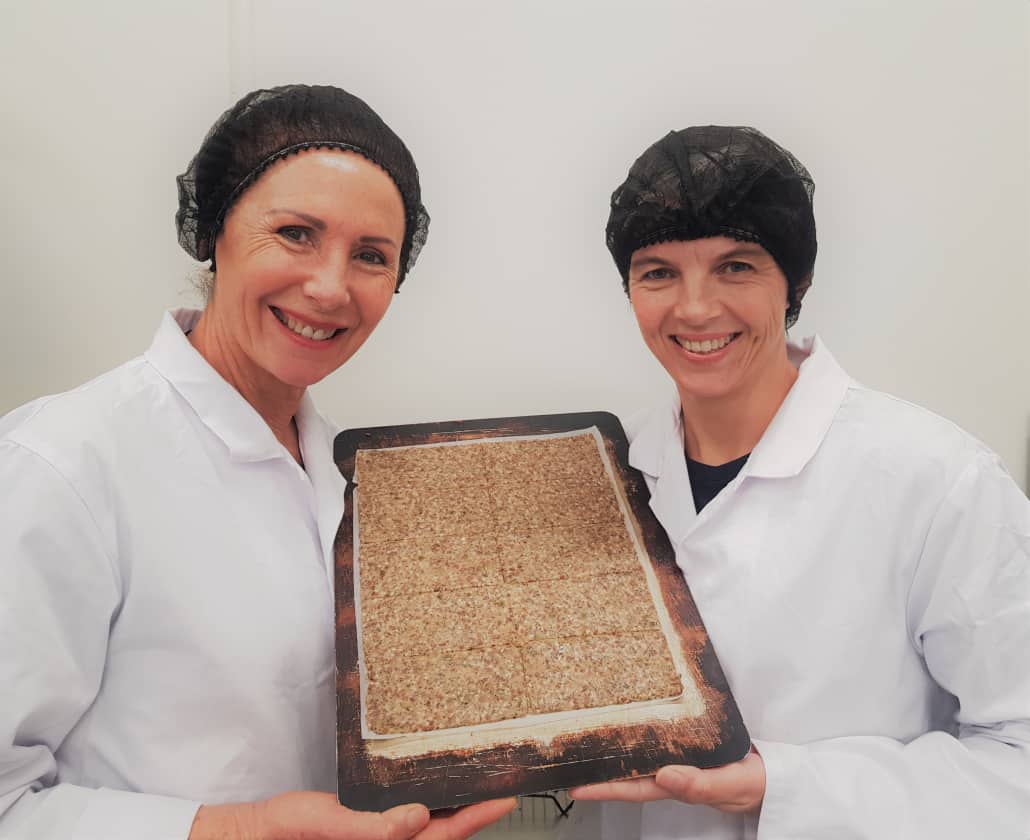 Mina Smith (Mrs Head Potato) dropped in to see me recently with some samples of a new product Proper Crisps have added to their range, and this time it isn't a fried crisp.
Mina told me she met Line (pronounced Lena) Hart the owner of a business that handmakes Danish Crackerbread called knaekbrod, a traditional Danish seed cracker. "Line had won an award for her crackers and we tasted them and thought they were really good, so we introduced them to a Nelson City Fresh Choice to help her expand her market."
After Covid-19 Line took a hard look at her business because her lease was coming up for renewal, "she was using a very labour intensive process that was just too hard for her to do if she was going to grow her business so she decided to close down."
When Mina and Ned heard about the closure they contacted Line to find out why, because the cracker mix is hand rolled it is hard on the body and the lease renewal coincided with her running out of packaging so she decided she wanted to spend more time with her family.
In true entrepreneurial fashion Mina saw an opportunity to purchase the equipment used to make the crackers and add them to the Proper Crisps business. "What we saw in the product was that it is primarily just seeds, it's a healthy, baked product made from seeds and oats with one flavour made using rye flour and one with regular flour.
"We had been wanting to add another snack line and had been exploring bars and other options. The downside of snack bars is that people want sweetness while these crackers are just healthy and tasty."
So Ned and Mina bought the production equipment from Line and set up a bakery facility in a building they had used for storage with the end result being a very tasty baked seed cracker that has had a proper makeover.
These crackers are perfect with cheese, loaded with things like tomatoes and cucumber for lunch or just to snack on any time of the day.
Wine Picks
Tiritiri  by Neudorf Pinot Rose 2020 – RRP $25 4.5 stars
Lovely citrus freshness enlivens the red fruits flavours (think cranberry, slightly under ripe strawberries) while the small amount that was fermented in old oak barrels (7%) adds roundness and complexity. A familiar streak of powdery minerality weaves its way through the palate.
The 2020 Tiritiri Rose by Neudorf is dry, yet juicy and packed with flavour making it a serious Pinot Noir Rose that deserves to be treated as a great food wine rather than a light quaffing wine – even though it is so dangerously easy to drink you can do that too!
Lake Chalice Plume Chardonnay 2016 RRP $49.99 4.5 stars
This is a powerful yet incredibly well balanced wine. Rich upfront with delightful lemon meringue citrus in the very long, juicy finish. A beautiful linear, chalky minerality with taut acidity provides the structure for the citrus dominant flavours to grab on to.
The age on the wine adds another layer of complexity, it is drinking beautifully right now but will also cellar nicely for another 5-8 years.
Published in the Nelson Mail 28.10.20