Last week in part one of the Mad Melon story I told you about Jamin Brown and how he started Mad Melon, a fruit processer turning watermelon as well as apple and pears into juice and selling them under their own brands as well as processing fruit into bulk juice for others.
I think there are a number of factors that place Mad Melon at the forefront of emerging smart businesses in this region. It is a small processor with just 10 staff working with modern processing equipment that allows this small team to be highly efficient and able to move quickly to help others or take advantage of an opportunity.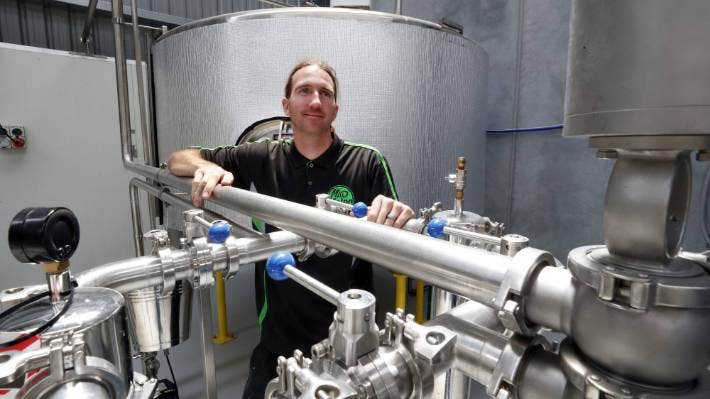 The design of the factory that allows efficient product flow through the facility and Jamin Brown's pragmatic attitude to growing his business as well as his single-minded determination to grow a small business into an export business while developing further opportunities for people and other businesses in the region are key to his current and future success.
Some of the things that really impressed me about Jamin is how he went about setting up his business with an intention to grow from day one, how he treats his people and how he has engaged with other businesses in the region.
Jamin's bright, energetic personality is engaging and when I visited the Mad Melon factory he wanted all of his staff to have input into my column. The people he has employed don't just do a job, they have regular input into the operation of the business, it's obvious they are engaged with the business and are proud of its success.
Jamin says "it's madness at times, everybody has input, I really care about the workers and if they come up with an idea to make things work better, be more efficient and make their day better then we do it. These guys are running the plant every day so they can see where, if we make some changes, we can improve productivity and that means I need to listen to them."
Something that I found really interesting is that many of his staff used to work at McDonald's, "their staff training is outstanding, it's a great place for young people to develop very good work habits, especially food safety habits."
The Mad Melon manager, Sumit Rampal comes from a background in technical management "he runs the place when I'm not here, he totally understands the quality we need in everything we do and is a key person for helping me improve what we do."
Pietra Brown, Jamin's sister, is in charge of maintaining high quality in process control. "We don't use preservatives in our juices, the juice is just pure fresh juice, not from concentrate, cold pressed then turned into delicious drinks after minimal processing, there's no added preservatives, no added flavours, no added sugars and we pasteurise our juices to preserve them for next level thirst relief.
"We add Vitamin C in the pressed juice but in the early days of testing we got the ratio wrong and created some spectacular sour faces. There's a lot of technical process controls and food regulations to work with so Pietra makes sure we are on top of those things during production."
Becky Palmer is also apart of the Madness team and she takes her health & food safety role very seriously. "Because we are making a product for human consumption we take the attitude that our customers trust us with their lives, we have to maintain that trust through food safety, even if that means we have to take extraordinary measures to control even the smallest risk. Food safety is paramount in everything we do."
It takes a big effort from every staff member to maintain these standards "so it's really important our people are fully engaged in everything we do, it's how we maintain standards, but we also want people to love working here, to be proud to be working here."
Because Mad Melon has modern equipment in a well-designed facility, they are able to help other producers in the region. They crush apples for businesses like Rough Hands distillery for their Applejack Brandy as well as juice for Capital Cider. "We got to know local legend Trudy Shield and she helped us with all of our initial lab testing, she's a fantastic person to work with and understands the value of small businesses working together."
Jamin told me that Mad Melon has had a lot of help and collaborations with others like Trudy, including New Zealand Apple Products, Chia Sisters, Sprig & Fern, Tullybarden and even Little Beauties who produce a range of freeze-dried fruits. "We take their by-product and use it as a part of our gold kiwifruit drink."
As the business has grown it has faced a number of growth related issues, one of those is storage of freshly pressed juice, "we need a vast amount of tank space and that's incredibly expensive for a young business" says CFO Anthony Brown. "Seifried Estate have leased us some tank storage and provided amazing help all-round. Everyone we work with has been a very important part of our success to date, and we so appreciate it."
The by-product produced from the juicing process is used as stock feed, "It just makes sense to take a fruit through a process and use by-product from every step and we're really proud to be part of that food chain use in this region.
Jamin's focus as a businessman is to create jobs and strong exports for the country, "we currently export small volumes to Australia but they want more so we need to expand our production. We have access to the fruit but have all sorts hoops to jump through, we don't mind what the hoops are, we just want to make sure we're jumping through all of them."
As to the future, Mad Melon has plans to expand production because demand for both their branded and bulk products keeps growing "we have to future-plan for that, we have the orders for our own brand, we just need to be able to process the fruit."
As well as the current range of products that are promoted with advertising from content creator Ben Grundy, their sales manager Debra Cruttenden has got a lot more flavours coming onstream to sell while the team are looking at expanding their space so they can set up their larger bottling and canning line.
Mad Melon are continuing to invest in more processing capacity with additional equipment that will let them deliver even more flavour in the products they make.
Mad Melon is an outstanding Nelson and New Zealand success story and it's a story that hasn't been completed yet.
Published in the Nelson Mail 27-07-2022