In this column I have tended to focus on very cool, tasty products produced in Nelson and the talented people who make them, but we need to remember that while these small businesses are really important to Nelson and New Zealand, it is the very large companies that drive our economy and create the good reputation New Zealand has in the world market place.
One such company based in Nelson is New Zealand King Salmon and I think it is worth thinking about the products they produce and just how important New Zealand King Salmon is to New Zealand, and the Top of the South in particular.
As the world demand for protein is growing exponentially and land-based farming is coming under huge pressure to clean up its act, marine based farming is growing in importance.
Sure there are negative impacts from such activities, but businesses like New Zealand King Salmon are investing a huge amount of time and money into minimising that impact and learning how to extract value from New Zealand's natural environment with minimal impact.
The marine farming industry is growing and changing at a huge speed compared to traditional land-based farming. And it is businesses like New Zealand King Salmon who invest in research with the world leading research Cawthron Institute, also based in Nelson, that are driving this rapid development.
The King Salmon species was first introduced to New Zealand around the end of the 19th century as a game fish, King Salmon eggs were brought here from Northern California, while in Australia the more common Atlantic salmon species was established. We managed to get the premium species, King salmon are less than 1% of the salmon produced globally and are recognized around the world as the most desirable salmon species for culinary purposes due to their high fat content that delivers superb taste and texture.
NZ King Salmon have been running a classic breeding programme for almost 25 years, this has resulted in their 'best of breed' salmon which has now been recognised as a unique breed distinct from other King salmon produced in New Zealand and around the world.
Let's be very clear, this isn't about genetic engineering or anything like that, it is simply taking salmon that naturally have everything needed for a premium product (superb taste, fat content, colour and texture) and selectively breeding to ensure the best traits are carried forward in each generation.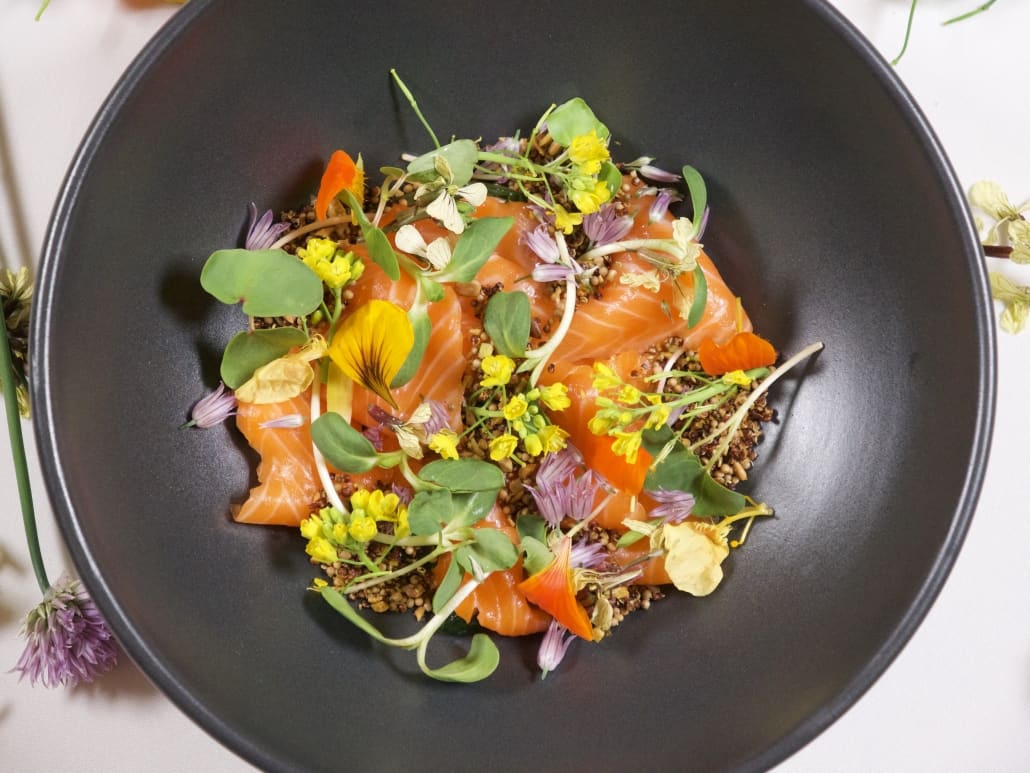 ?ra King Salmon is what New Zealand King Salmon offers to fine dining restaurants around the world, it is the very best of the salmon the company produces, is offered exclusively to food service and can be seen on menus at high end restaurants from New York to Tokyo.
To celebrate the fabulous chefs and restaurants using ?ra King, New Zealand King Salmon launched the annual global ?ra King Awards in 2013. These awards challenge chefs to create new and innovative dishes and culminate in an awards ceremony right here in the Top of the South.
As part of their prize the finalist chefs attend the awards ceremony and tour the Nelson and Marlborough regions where ?ra King salmon is produced, as well as visit the farms and processing facilities where the salmon is produced.
The 2018 awards were launched globally yesterday with events in Sydney and Wellington, and there is a special Nelson launch for invited guests tomorrow at Hopgood's & Co.
Because King salmon is grown in the top of the south regions, it tends to be readily available here and I am sure the majority of people in New Zealand don't realise how special New Zealand King Salmon is to the rest of the world where it isn't readily available. The ?ra King product is considered an highly aspirational product in the international market place including in Japan, Australia and North America where chefs and diners alike appreciate the quality.
I recently spent some time talking with Jemma McCowan, the General Manager of Marketing for New Zealand King Salmon and Rosie Turner who is responsible for running the international awards to find out a bit more about why New Zealand King Salmon developed the ?ra King salmon product and more about the importance of the ?ra King Awards.
Jemma told me "about six years ago we reviewed our strategy and realised that while we have a strong retail brand with Regal Salmon, food service customers in New Zealand and off shore were receiving product under the company name. As New Zealand King salmon is also the species name this was creating confusion and we recognised the need to develop a product and brand to meet the needs of the very top restaurants – ?ra King is the result. A premium product and brand that promises quality top chefs around the globe can rely on to meet their very exacting needs."
"These chefs also care about the provenance of the product, they want to know the science behind the breeding programme, where and how the salmon are raised and they need to know it is a product they can trust for sustainability credentials and traceability."
"They also appreciate that we can get whole fresh, chilled ?ra King from the farms in the Marlborough Sounds to their restaurants around the world in top quality condition, depending on location, around 1-3 days after processing."
Rosie said "we bring some of the world's best chefs to Nelson not just to show them our facilities, but to showcase the whole region. The chefs get to spend a few days building relationships with their peers, learning from each other and learning about the unique produce from this part of the world. With the Awards we created a platform to challenge and celebrate the expertise of the chefs, its our contribution to what we call, the global gourmet village.
"We typically export whole salmon because chefs like to get the whole, fresh fish they can break down themselves and add their own inspiration to. The Awards is really to celebrate what the chefs bring to the ?ra King story, the craftsmanship and creativity they deliver on the plate".
"As the awards have progressed we have seen a greater focus on presentation. Last year one of the New Zealand finalists commissioned special pottery to plate his entry dish on, while an Australian chef built a model of our hatchery to present his entry.
"The ?ra King Awards have always inspired chefs to create beautiful dishes, so the natural evolution was to take this to the next level, this year's theme is 'Inspired by Art', we are asking chefs to take a piece of artwork from any medium and interpret that as a dish using ?ra King as the hero ingredient.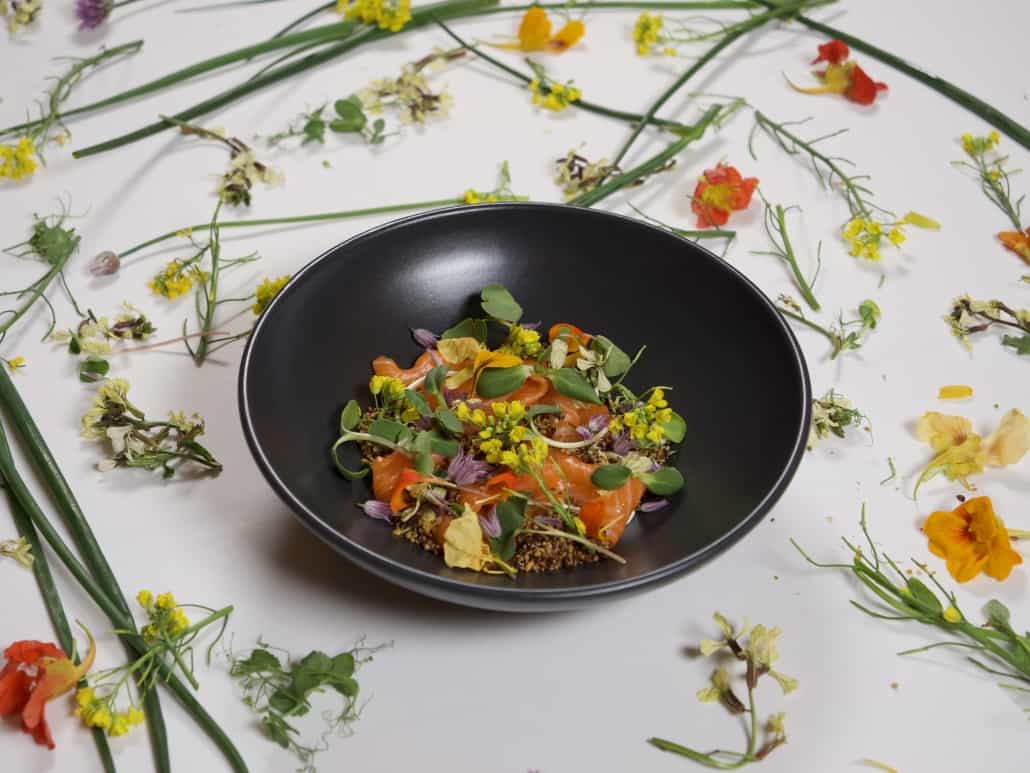 "We reached out to last year's North American winner, Travis Swikard and asked if he would create a dish that we could use to communicate the Awards challenge. Travis is the Executive Chef at Boulud Sud, which is in Manhattan across the street from The Lincoln Center of Performing Arts, he came back to us with this stunning cured salmon creation garnished with edible spring flowers. His inspiration was "Ode to Joy" from Beethoven's ninth sympathy, he told us about how this particular piece of music always gives him the feeling that the first sign of spring had appeared after a cold dreary winter in NYC. And because Boulud Sud is right across the street from the Lincoln Center, he has the privilege of seeing it played by the NYC Philharmonic many times."
About 35 international guests will be in Nelson for four nights in October with the winners announced at the Awards Ceremony being held at The Suter on October 16th.
Published in the Nelson Mail 06.06.18