Published in the Nelson Mail 06.02.19
I discovered a special meat product by chance several months ago and have been hooked on it ever since, Raeward Fresh have a climate-controlled cabinet to dry-age beef and once you have tried it you will find it very hard to turn back to fresh beef or beef that has been wet-aged.
To find out more about the process of dry-aging beef, and some of the other unique products the Raeward Fresh butchers have sourced, I met with butchery manager Pierre Marquet and owners Gareth and Laura Caldwell, who you may remember from their days owning the Speights Ale House.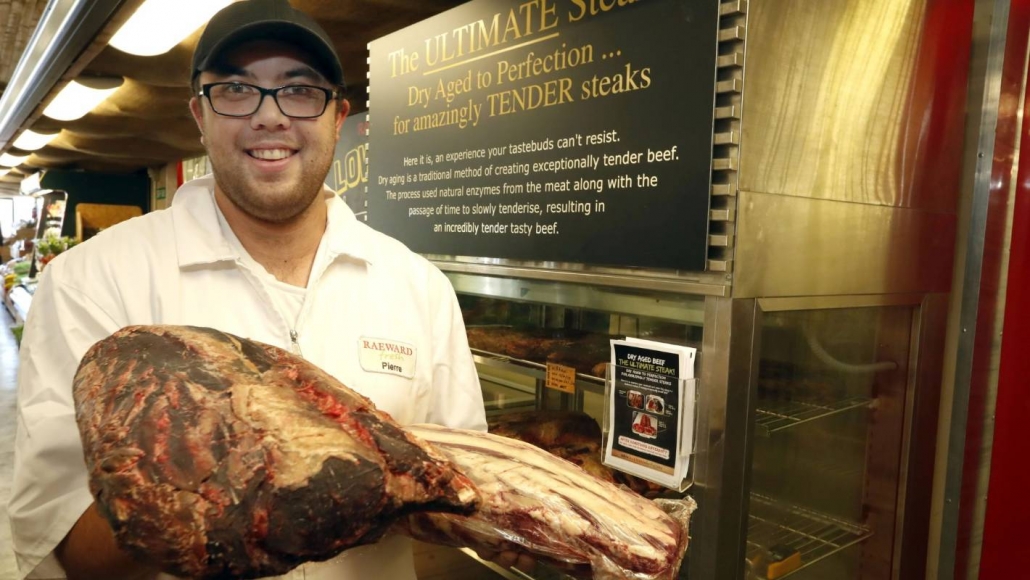 In fact running the Ale House where they serve great food gave Gareth and Laura a lot of experience sourcing food to cook for their customers, I guess you could say they have been at the delivery end of the food chain so they understand the importance of sourcing the very best products they can for their Raeward Fresh trade and home customers.
"We do everything we can to have quality products at affordable prices so people can shop better and eat better products at the same time" says Gareth.
But it's the dry-aged beef that is the motivation for this column, Pierre told me "it starts with us sourcing the best beef we can find in New Zealand and then taking the time and care to dry-age it for customers.
"The beef comes from Natural Farms and is all grass-fed, naturally roaming, prime steer quality beef, they tell us that raising great beef is hard work but the principles are simple, treat the animals right and use only what nature provides."
Dry-aging is a traditional method of creating beautifully tender beef and it is more expensive because it takes a minimum of 14 days to age and the meat loses between 20% and 30% of its weight through evaporation and trimming of the crust that develops on the outside of the meat.
That means a kilo of dry-aged rib eye beef will cost you about $44.99 as against about $33 for wet-aged rib-eye or about $83 for Wagu Sirloin.  
So what is the difference between wet and dry-aging beef? "Wet aging in vacuum packed bags retains all the moisture", says Pierre, "so when you cook the meat there will be juices running out on your plate.
"For dry-aging, whole sides of beef or primal cuts are hung in open air at a temperature just above freezing and left to age for several weeks. Not only are the enzymes working on the muscle tissues during this time, but the meat is also slowly dehydrating. This concentrates the meat and changes the texture and flavour with the result of very tender meat with an intense flavor.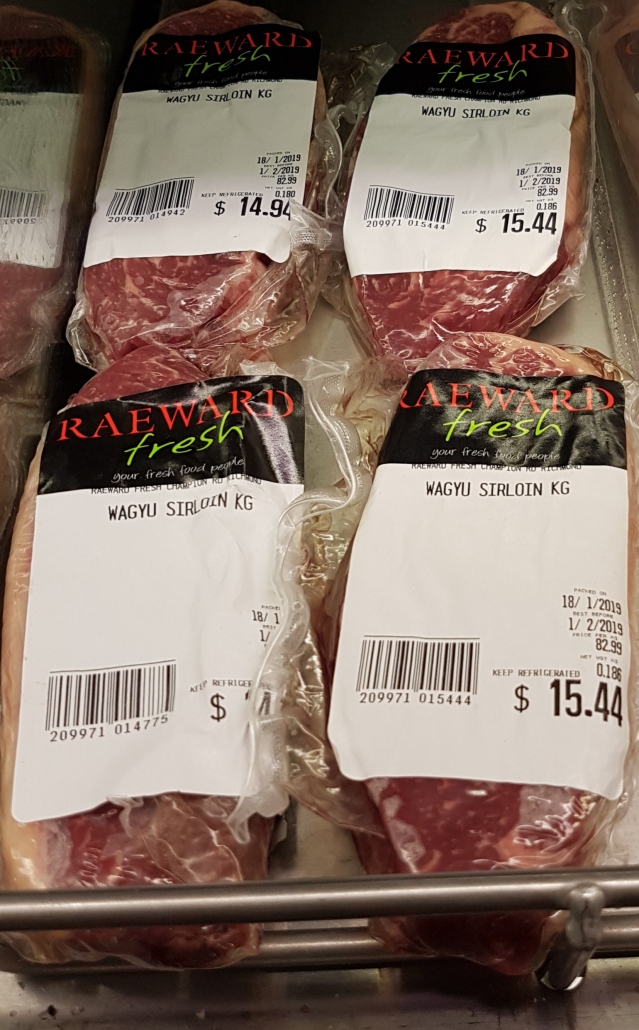 "Wet-aging is a relatively recent technique that developed along with advances in plastics and refrigeration. In this process, cuts of beef are vacuum-sealed in plastic and shipped to the market.
"The aging takes place in the 4-10 days between the freezing works and store while the meat is in transit, the enzymes still have time to tenderize the meat enough to make it acceptable."
"When you cook and rest a dry-aged product the juices remain in the meat and it doesn't shrivel as you cook it because we have already reduced the excess moisture level in properly controlled conditions."
The dry-aging cabinet is climate-controlled, it runs at between 1 – 3?C with a relative humidity of around 85%. This controlled environment prevents bacteria developing and it's difficult to age it like this at home.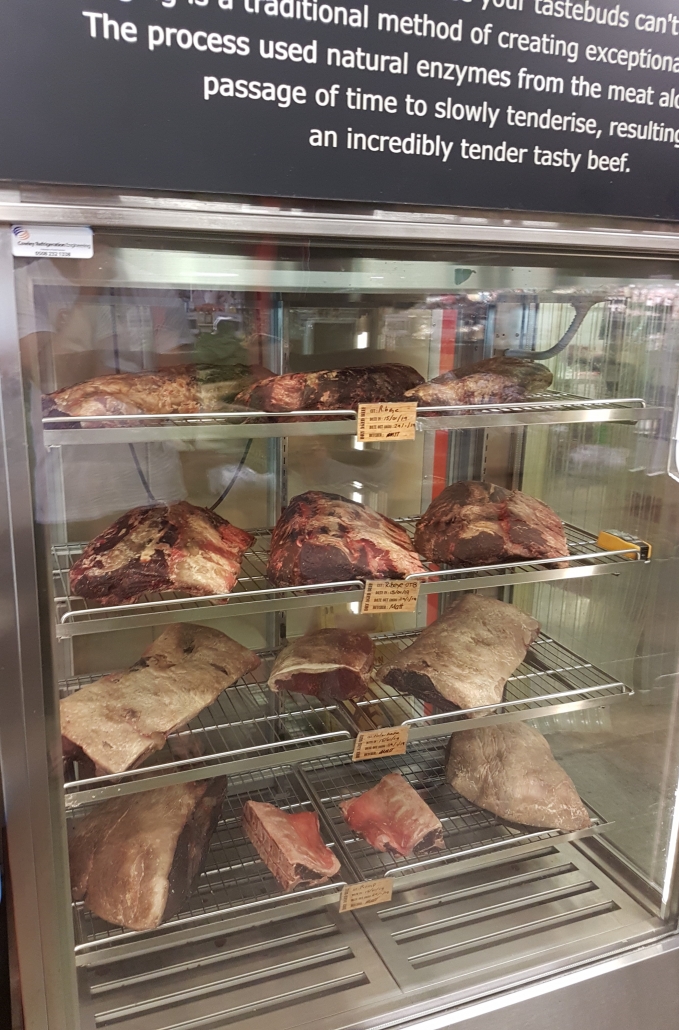 "Only butchers trained in the appropriate MPI food safety standards are allowed to open the cabinet, so it is either me or Josh Moorhouse,and we manage the temperature and humidity to maintain the integrity of the process and product."
Gareth also says "While you may find some dry-aged beef cuts pre-packed in the chiller we are here to give our customers whatever they require so will always happily cut something to a specific size or weight should they require." We get the butchers to cut a single 300gm steak for us.
"Our team of butchers enjoy talking with customers about the many different cuts of meat we have or various cooking techniques and of course cutting their dry age beef!"
Pierre told me customers can even buy a full cut of meat, like a whole porterhouse before it is cut into steaks and they will dry-age it to order for you.
If you are paying for a premium meat product it is important you get the most out of it by not ruining it when you cook it; we cook a 300gm ribeye steak on a very hot barbecue grill plate for 3 minutes a side and it is perfectly medium rare.
Pierre says "don't kill it on the grill, better to under-cook than cremate it. Rare or medium-rare is best and because we have dry-aged it the cooked meat won't bleed on the plate even if it is very rare."
When it comes to dry-aged beef it may be more expensive but the quality makes for exceptional eating and Raeward Fresh have a full range of cuts available.
Now you know about dry-aged beef what about the other unique products Pierre and his team have for you; "we are the sole suppliers of Turks chicken in the region, it is corn-fed free range chicken so is packed with flavour, it stays juicy when you cook it and the skin gets beautifully crisp every time."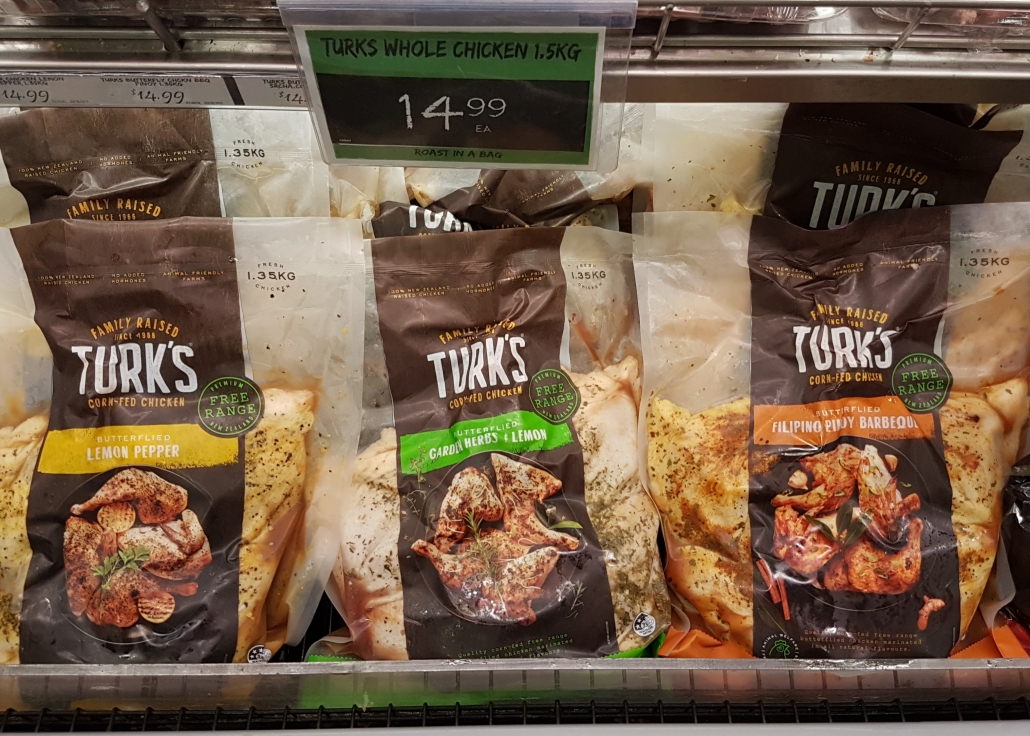 This is another product we buy at Raeward Fresh, considering it is free range the pricing is very competitive, in fact it is cheaper than some more well-known products. Turks chicken breasts everyday price is $16.99 kg while free range chicken breasts from most suppliers are up over $20/kg so this really is getting superior quality at affordable pricing.
One of our favourite chicken options is a whole butterflied chicken that has been marinated in one of their tasty spice mixes and the normal price is $14.99 for the whole chicken, "We sell plenty of these and often have them on special, people have really taken to them because of both the quality and flavour range."
It goes without saying they also have a full range of meat products in the store, the butchers make all of their sausages in-house and don't add fat as a filler, relying on the natural fat in the meat to keep them tender and juicy, "and you won't get a lot of fat on the barbecue" says Gareth.
There is also the Free Framed Pork from a North Canterbury Farm in Cheviot again showcasing quality at affordable prices. 
Gareth says, "Nelson is a great place for supporting locals, we try and source as much as we can locally and love supporting Nelson's local producers which is a huge part of what we believe in in our store."
A beautiful 300gm dry-aged sirloin steak from Raeward Fresh Richmond

Oil and season the steak well before you cook it, don't oil the pan of barbecue

300gm dry-aged beef sirloin oiled and seasoned – cook for 3 minutes a side on a hot barbecue grill for perfectly rare steak.

300gm dry-aged beef sirloin cooked 3 minutes a side on a hot barbecue grill.

Perfectly cooked 300gm dry-aged beef sirloin ready to slice after resting for ten minutes. Notice there are no juices on the plate, all the deliciousness has remained i the meat.

Perfectly cooked 300gm dry-aged beef sirloin sliced and ready to serve. Notice there are no juices on the plate, all the deliciousness has remained i the meat.

Scatter some Cranky Goat goat's cheese over the beef

Dry-aged beef sirloin, cooked to a perfect medium rare and served on a tomato, basil and goats cheese salad