Published in the Nelson Mail 10.10.18
This region is lucky enough to have some wonderful food producers, and a part of the food scene that adds colour and vibrancy to the city and events around the region are the food carts, one of my favourites, Viva la Vaca Parrilla, specialises in beautiful Argentinian style slow cooked meats.
I'm an unapologetic carnivore, I just love a piece of beef that has been treated with love and respect from the farm to the plate, or in this case from the farm to the ciabatta roll smeared with flavoursome chimichurri sauce, so last week I had a coffee with one of the owners of Viva la Vaca Parrilla, Matias Cacciavillani, to talk about the business he owns with his partner Chelsea Hall to try and tease out some of the recipe secrets for his delicious food.
He told me that "Viva la Vaca or 'Long live the cow' pays tribute to the monarchy of meat, and the Kiwi and Argentinean love of tender, succulent, gorgeously cooked meat", who am I to argue with that basis for a food truck and catering business.
Matias and Chelsea set up their food cart in the Pocket Park on Bridge St (next to Westpac) for lunch on Fridays, but I first came across them outside Raeward Fresh on a Saturday morning where the wood-fired cooker was gently cooking the various cuts of meat and the aromas were mouth-wateringly tempting for a meat lover like me.
But let's go back a step or two, firstly I wanted to know why he and Chelsea chose Nelsonians as the people to treat with their Argentinian foods. Like so many people I talk to, he told me "we chose Nelson after we had explored many parts of the world and New Zealand, Chelsea always told me I would love Nelson and she was so right!"
Matias is a traditionally trained chef from Patagonia, Argentina and met Chelsea at Heron Island on the Great Barrier Reef where she was working as a dive instructor and he was a chef in the resort.
Matias grew up San Martin de Los Andes, a small town in the Argentinan side of Patagonia, it was here that his passion for cooking was born, through many days spent cooking and eating asado (Argentian style wood-fired BBQ) with friends and family.
He left home to study at a cooking school in Buenos Aire then, after returning to Patagonia for two years, he headed to the Basque region in Spain where he had a placement in the three Michelin star restaurant Martin Berasategui in Lasarte.
"The region has lush green hills just like in New Zealand, it has beautiful beef and is very close to where they produce Jamon Iberico. It was such a highly regarded restaurant with a real connection to its local community and had a big influence on me as a chef, we got to work with amazing produce, most of my placement was in the meat section which I absolutely loved."
After Spain he returned to Patagonia for another season but had developed a taste for travelling so when the opportunity arose to go to Heron Island in Australia he jumped at the opportunity, and a short time later he met Chelsea.
Matias' first experience of New Zealand was when he and Chelsea visited her family in Wellington for a week before they traveled through South East Asia for seven months and returning to New Zealand where they wanted to put down roots.
Landing in Wellington, Chelsea's home town, Matias found a job with Martin Bosley at his restaurant on Oriental Parade. He spent a year working with Bosley and his team where he discovered new flavours and got to know and work with great New Zealand produce.
After a year in Wellington, the couple brought a campervan and traveled through New Zealand, exploring all the little nooks and crannies and experiencing kiwi hospitality at its finest before returning to Wellington where the couple lived with Chelsea's mum, Fliss, and partner Bryan (or Gunna as he's affectionately known) and the idea of Viva La Vaca was born.
Many an evening was spent hashing out plans on what a food cart would look like and how it would operate then, after many months of planning and building, the food cart it was ready to come down to Nelson to start it's life as Viva La Vaca Parilla.
As we all know you need the very best product you can get if you want to produce great food so Matias and Chelsea spent a lot of time building a great relationship with Raeward Fresh.
"The owners, Laura and Gareth Caldwell are lovely people, Pierre (the butchery manager) and the wholesale team really know their stuff, they will source anything we want and it's never a problem.
"For us it was also about keeping it local, using freedom farmed meat where possible and having the ability to talk to someone about what we want."
When it came to finding a spot to set up Viva La Vaca they had amazing support from the local community, "Bruce at Beaurepaires gave us our first break and we started off in his car park."
The first years were busy, operating at all the local events as well as both of them working full-time in other jobs so after they had their son Sebastian in May 2016 Matias decided it was time to take the business to another level  so in November when the Isel Twilight Market was due to begin and they had a summer of events lined up he resigned from his job with the idea to make Viva La Vaca a full time thing.
Since then the business has expanded, they now cater weddings, private and corporate functions, make take home meals during the week, and are part of the Isel and Motueka Markets and go to many other events across the region.
But how do you cook a large piece of meat perfectly? Matias believes meat becomes special when cooked over a wood fire (an asado) "to cook a good asado there are four key components: the wood, the products, salt and patience. For wood, a New Zealand hard wood is imperative for flavour and maintaining an even heat, we use Manuka and Kanuka."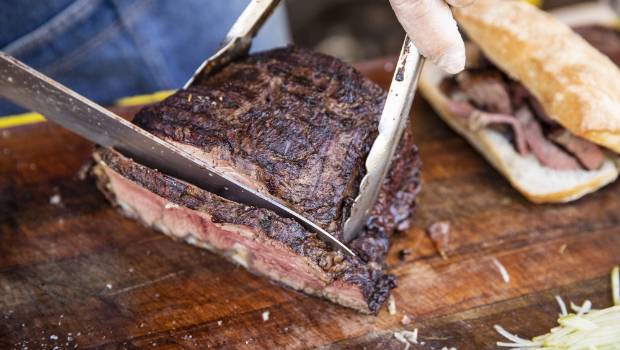 A whole beef sirloin can take from 2.5-3 hours to cook and any home cook will know that salt enhances the flavour of a meal, Matias says "when cooking meat, using coarse salt is important, don't use fine salt as you generate a layer that dries into a crust.
"If you use coarse salt the meat will generally absorb what it needs, patience is what ties it all together and the end result is divine."
So, if you want to experience some of the flavours of Argentina from a wood-fired BBQ (parilla), head to the Pocket Park on Friday for lunch or if you're feeling like letting someone else take care of your dinner during the week, you can order takeaway meals that you can collect from their commercial kitchen.
The best way to find out where these guys are located on any given day is to check out their Facebook page where they let their loyal meat loving followers know exactly where they'll be so you can get your delicious meat fix!