Here's a tasty recipe for charred prawns, mango, peanut & lime from the great guys at Hopgood's & Co for you to make at home.
Head chef Aaron Ballantyne says they are super easy to make using ingredients many people will have at home with the addition of a few easy to find ingredients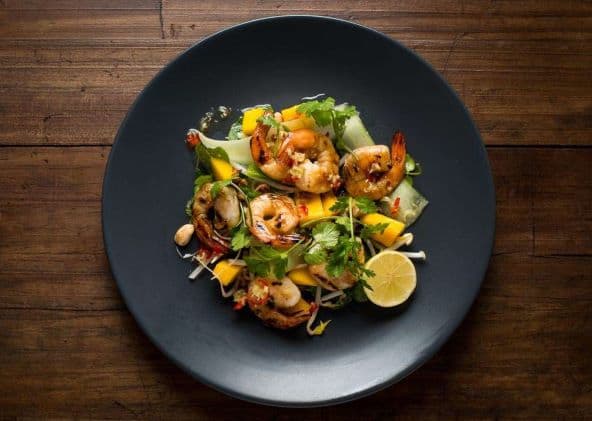 Charred prawns, mango, peanut & lime
Serves 4
Ingredients
32 large prawns, shelled & de-veined
2 tbsp Thai chilli sauce
1 mango, peeled & diced
½ red onion
1 cup mung bean sprouts
1 cucumber, peeled, thinly sliced
2 bunch fresh coriander, roughly chopped
1 bunch Thai basil, roughly chopped
½ cup spiced salty roasted peanuts
15ml Thai fish sauce
20g coconut sugar or grated palm sugar
40ml fresh lime juice
1 red chilli, finely chopped
1 garlic clove, finely grated
½ cm piece ginger, peeled and grated
1 tablespoon peanut oil
Method
Marinated the prawns with the chilli sauce for 2 hours in fridge.
Preheat a bbq grill.
Put mango, onion, chilli, sprouts, cucumber, herbs and peanuts in a large bowl.
In a separate bowl make the dressing. Whisk together the fish sauce, sugar, lime juice, chilli, garlic, ginger and peanut oil. Taste and season with more fish sauce if needed. The dressing should taste sweet, hot and sour.
Grill the prawns on the hot bbq grill, until golden. Add to the salad ingredients, drizzle over the dressing, then toss well to combine.
To serve – divide the prawn salad between 4 plates. Serve with an extra wedge of lime to the side.