A few months ago I spotted a few bottles of cherry juice at a local retailer and put one in my shopping basket to try, after trying it I bought more and started doing a bit of reading about the benefits of this pure fruit juice. That's when I discovered the reason Sari and I had been sleeping better than we had for a long time.
For many years the benefits of eating nutrient-packed cherries have been well known, but I didn't know one of those nutrients is melatonin that supports a great night's sleep. I needed to find out more about the drink that has improved my sleep so met with the owners of Eden Orchards who produce the cherry juice, Gary & Steph Bignell, last weekend to learn more about them and this outstanding product.
When Gary finished school in Marlborough the main industries were mainly horticulture based, going to work in a cherry orchard seemed like a natural thing for him to do. He says "back then they were just starting to plant the first vineyards and there were far more cherry orchards than vineyards, now there are only four cherry growers left and even our old Waihopi Valley orchard is about to be converted to vineyards."
Around 35 years ago, while working in Marlborough, Gary graduated with a Diploma in Horticulture from Lincoln University through an Industry Training Organisation and with his nurse wife, Steph, they developed their first cherry orchard in the Waihopai Valley.
Having started as cherry growers in Marlborough they expanded to Nelson where they established an orchard at Mapua but, as we all know, any horticulture enterprise is subject to the effects of mother nature and people's whims. "People like to buy perfectly plump, juicy cherries and we got sick of throwing away the small cherries people didn't want, so we started pressing some to see how it would come out."
Steph was a nurse and has always worked in the orchards along with all their children as they got old enough to work safely in the rural environment. "Steph was equally involved in setting up our juice operation and has worked hard to develop the product, the brand and getting the juice to market".
Gary told me their very first batch of cherry juice was made Nelson in Permin Road, "we made the first 25 bottles the old fashioned way. We pipped the cherries by hand and squashed them by putting the fruit in muslin cloth then pressed it with our feet."
They have progressed from their feet to designing specialist equipment and having their own processing facility in Alexandra. "In our second year in 2017 we made 600 bottles of cherry juice, that has grown to 250,000 bottles this year."
As I talked with Gary I quickly realized the couple had a few challenges to overcome when they started the process of producing a high quality cherry juice that has only one ingredient – cherry juice without any flavourings, colourings or preservatives.
"Cherry juice oxidizes and turns brown very quickly, so we had to work out how to solve that problem, it took a lot of trial and error until we found the magic formula and then we designed a unique machine to take the juice through the required process.
"It's difficult to make without preservatives, we have to remove the pip without damaging it so we have developed the technology to overcome the obstacles and this has enabled us to make a high quality product in large volumes quickly and efficiently without adding anything while retaining the pure cherry flavour that still has the nutritional values people prize. We use just one ingredient in each bottle – that's cherry juice."
Steph told me they made a decision from day one "we were going to do it as naturally as we can, if we had to use additives, we wouldn't do it and it has taken a lot of research and effort to make it a natural product.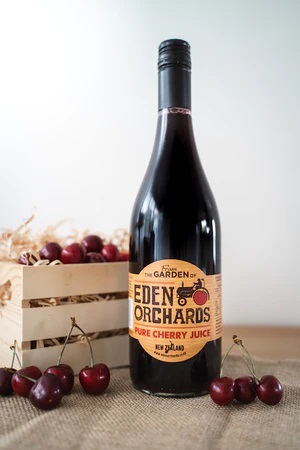 Gary and Steph started making the juice to use up a waste product, Steph says "people like to buy nice, plump, juicy cherries and won't even look at small or slightly misshapen fruit, especially for the export market, and Gary hated dumping perfectly good fruit that just didn't look perfect."
Gary told me one of the best things about producing this juice is that "we have taken about 450 tonnes of fruit each year that would have been thrown away and have turned it into a primary product. As well as some of our own fruit, about 80% cherry orchardists in Central Otago supply us with their export-reject product.
"They used to pay to send reject fruit to landfill and we now process that fruit, it saves the orchardist money in refuse fees and we pay them too so it's a win-win for everyone and the environment."
While we started making our cherry juice to use up a waste product people kept telling us how it was making a difference in their lives. "We don't promote it as a medicine, but we can promote the health benefits that are associated with cherries, they have a high melatonin content that has been proven to be essential for sleep and it's known to breakdown uric acid that causes arthritis.
"We set out to use the waste product and have ended up with something that has lots of natural remedy properties."
The couple originally set up their processing plant in the Waihopai Valley in Marlborough but as demand grew for their juices it just made sense for them to move the plant closer to the crop. Processing now happens in Alexandra close to the Central Otago cherry growers who send their reject fruit to Eden Orchards.
Gary told me the fruit has to be in very good condition before they will take it, "there are many varieties of cherries, we are quite selective about the varieties we use. The quality of fruit we take is vital, you can't expect to have a good result at the end if you don't have good fruit at the beginning."
While processing of the cherries happens in Alexandra they develop new products here in Motueka, "it's where the innovation happens". Eden Orchards has expanded the range of pure fruit juices they offer with flavoured cherry juice now an important part of the business. Steph says "we grow our own raspberries and blueberries on our orchard and only use pure juice from these to add to our cherry juice – it is all 100% natural fruit juices without any additives or preservatives."
From dedicating their lives to growing and selling the freshest cherries direct to customers all over New Zealand Gary and Steph have created a new, innovative product that is good for you, absolutely delicious and redirects reject fruit from landfill. That has to be a great thing.
Speaking of great things, you only need a little each day to reap the benefits of this amazing product, try it with sparkling water as a refreshing drink but I like it over ice with a splash of vodka too, it's also great as a mixer with prosecco and is perfect to make a sauce to go with roast duck.
Check out Eden Orchards and find out more about the range of products they offer at www.edenorchards.co.nz