Published in the Nelson Mail 29.08.18
Karsten's Wurstladen is a little food store in Hardy St that specialises in beautifully made, traditional German fare.
Wurstladen had been operating for about ten years when Karsten Rentsch bought it and rebranded the store to include his name, since then he has quietly developed a strong following, especially from those who love traditional German sausages and smoked smallgoods such like Black Forest Ham, Liverwurst and perfectly aged cheeses from New Zealand and Europe.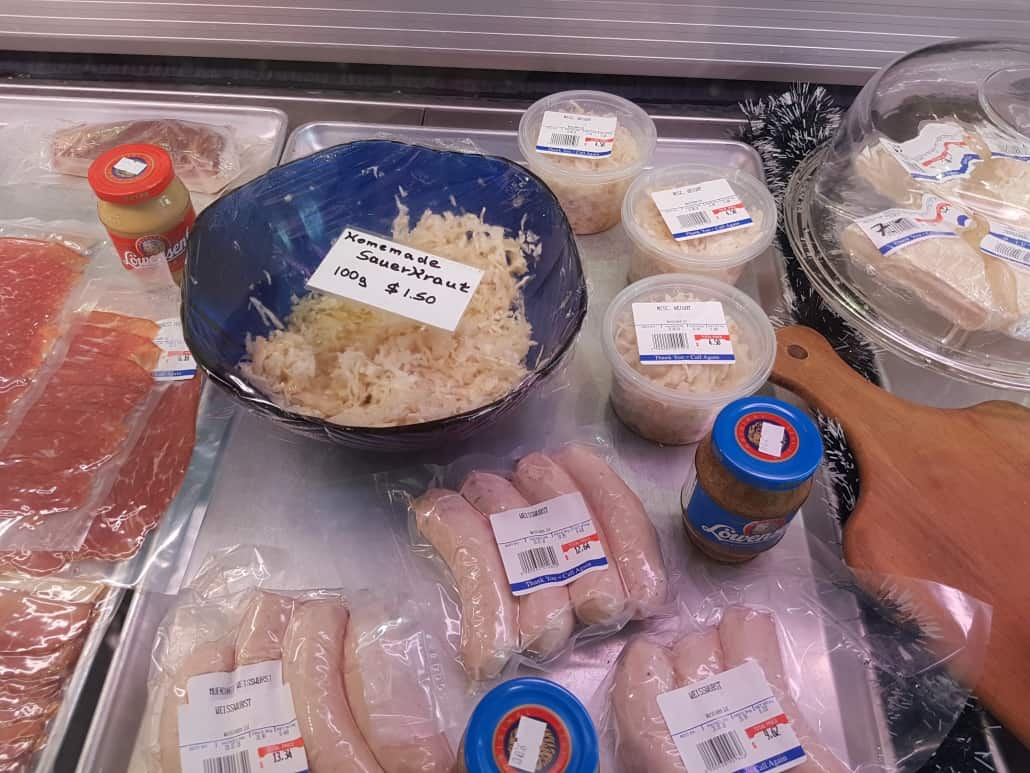 If you walk past his store you will smell the gently cooking bratwurst sausages on the small barbecue at the entrance to his shop, these are one of Karsten's Wurstladen most popular dishes, served simply in a bun with traditional German mustards they are just tasty deliciousness.
Karsten told me he uses the barbecue to cook the sausages people buy for lunch or a snack because for bratwurst it is the best way to do it and of smell of beautifully seasoned sausages sizzling away is one that is difficult to resist.
Karsten is originally from Frankfurt in Germany, where he worked in the family business selling appliances before he started his own specialty bottle shop with a small restaurant attached.
"At the restaurant I was doing wine tastings and whiskey tasting with a three course meal, we often had a tarte flambé or flame cake as some people call it, it looks like a pizza, has a very thin base but topped with larden and onions and cheese or you can have a sweet version with apple and cinnamon that is then flambéd with calvados, it is a real specialty of the region."
As you can probably imagine when I found out he used to own a bottle store our conversation quickly turned to discussing some of my favourite German wines from Mosel but he told me he misses the grassy flavours of New Zealand sauvignon blanc "producers seem to have changed to making wines with topical passionfruit flavours rather than the crisp grassy style I fell in love with when I was selling them in Germany."
I asked him why he and his wife Sylvia decided to move to New Zealand and Nelson, "we were fed up with the people in the Frankfurt region, the people who came in the shop picked up a bottle of wine, put the money on the counter and walked out, it happens in a lot of shops, people there don't communicate as much as they used to.
"Dealing with people is my passion, I love to deal with customers and the changes in Germany meant I wasn't enjoying it."
He told me that while the economy was quite stable, for things like petrol you had to shop around because the price would change a lot several times a day, "I had to buy fuel after 10am and before 2pm, during the morning rush hour it is more expensive and after 2pm it increases at the day goes on, it was just crazy and we got the feeling big companies were starting to have too much influence.
"For things you couldn't avoid buying prices just kept going up, not just a little but by an unreasonable amount."
He also told me dealing with authorities like councils was very difficult, "most people are very unsupportive and don't care about you, I have found quite the opposite here, it is actually a very supportive business environment."
When the couple moved to New Zealand they had intended to live in Christchurch but the rebuilding process was underway and they couldn't find a space to set up a business, "we wanted to stay in the South Island so came to Nelson and bought this business."
Food has always been an important part of Karsten and Sylvia's culture and he told me having this store lets them share the foods of their home with people here, "we make lots of our own food, Syliva makes our sauerkraut, sour dough bread and cakes but we buy our meat products from a specialty German butcher in Tauranga.
"We use traditional German recipes, our specialty cake is the traditional Black Forest Gateau, it has a small amount of alcohol to enhance the flavours but we only make it to order, we don't stock it to sell by the slice because if we don't sell it all we end up wasting it.
"But really people come to us for the specialty sausages, meats and cheeses that are as natural as possible."
I asked Karsten why he buys sausages and cured meats from Tauranga and he told me that while there are plenty of good sausages being made here "our butcher uses traditional techniques, in Germany a butcher trains for three years learning not just how to butcher a carcase but also about how to use the meat then another two years before he can call himself a Master Butcher and own his own butchery.
"They learn traditional techniques for smoking meat, making sausages as well as other products like meatloaf and liverwurst, it is a real craft and you can taste the difference in the food.
"They have to learn all the recipes to high German standards and some of these are hundreds of years old, our German trained butcher takes beautiful New Zealand products and uses his traditional training to make top quality products that speak for themselves, when you taste the sausages you can taste the different meats, herbs and spices, nothing distracts you from what the sausage should be."
All the products are just meat, herbs and spices with no added gluten or nasty e-numbers, just pure, meaty goodness.
And the best way to cook a perfect German sausage? "Some sausages like frankfurters for example are just simmered and not grilled but gently grilling a sausage like bratwurst on a hotplate is the best way, and of course serve it with hot German mustard and a cold beer."
Karsten also does his best to source products for customers, I ordered a round of blue cheese from him a year or so ago and while I was talking with him last week he took delivery of two beautiful rounds of New Zealand gouda including a cumin gouda that is really popular.
For such a small food store that is almost tucked away and can be easy to walk past Karsten's Wurstladen will draw you in with the smell of gently grilling sausages and when you do go into this delightful food outlet you will find a small but perfectly formed selection of traditional German foods hand crafted by specialists who have a real passion for food.