Published in the Nelson Mail 22.08.18
Last week I met with one of the owners of arguably the most intensely focussed business I have come across for a long time, a very long time; Appleby Farms Ice Cream has gone from producing its first tasty treat on the 1st December 2017 to now being stocked in over 350 supermarkets, winning Silver, Gold and Best in Category awards at the 2018 New Zealand Ice Cream Awards, and becoming a favourite for everyone who has tasted it.
Andrew (Rew) Gray comes from a manufacturing and management consulting background and when two local dairy farmers approached him to look at working on a business case for an idea they had for adding value to their beautiful A2 milk it didn't take long to realise there was a place in the premium ice cream market they could fill.
Julian Raine & Murray King have been good mates for a long time, both are passionate dairy farmers who care intensely for their farms and animals. They had been searching for a way to value add their milk and get a decent return without having to rely on the vagaries of commodities markets .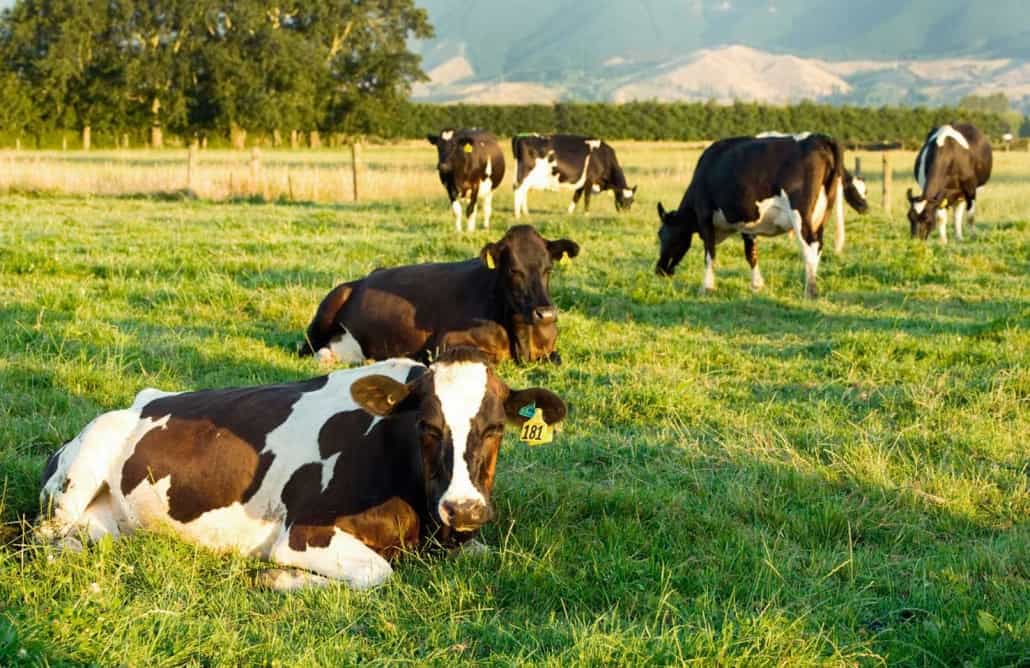 Their herds are both A2 herds, and while this is becoming common terminology I'm not sure many people understand exactly what it is, Rew told me it takes time and investment to convert an A1 herd to A2, "in essence A1 milk has a particular amino acid in the protein linked to possible digestion problems, the same amino acid is not present in A2 protein.
While working through various options they discussed their ideas Kristy Giles, a food technologist who ran the on-farm risk management programme for both farms and who had also worked with Tip Top in product development, she asked them if they had looked at ice cream, Julian and Murray hadn't even thought about it as a product.
In mid-2016 they had worked through a business case but didn't do too much with it, they didn't have the time resource to pull a new business venture together, and that is where Rew added his expertise, "we did a lot of work and got to a stage the project made sense, however we very quickly established the value for us wasn't in two litre tubs of ice cream, the big players have that market sewn up, but there was a space for in the expanding premium ice cream market."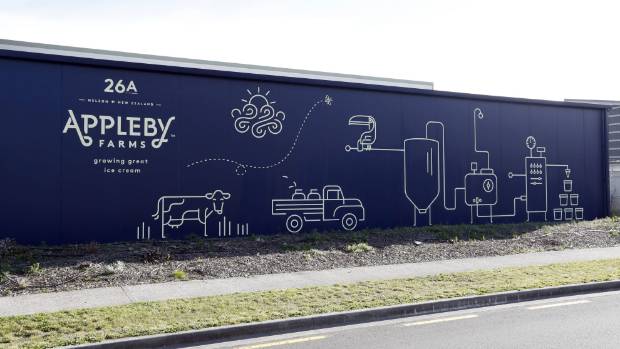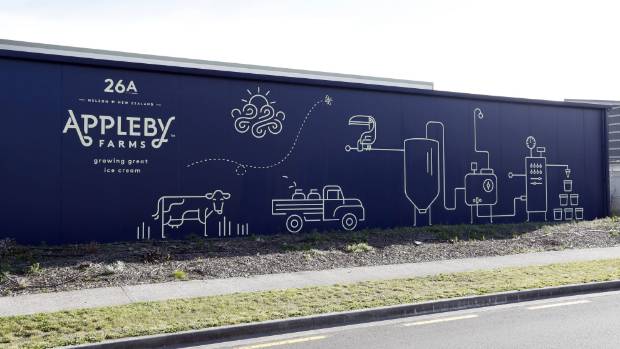 In March 2017 four Nelson families (Rew & Leigh Gray, Kristy and her husband Richard Waite, Julian and Cathy Raine, and  Murray and Sarah King) made a commitment to each other to build an ice cream business.
They are all "mad passionate Nelsonians" and wanted to build a product and brand Nelson can be proud of, "we want to be a business all Kiwis can be proud of" says Rew.
They found a former food factory in Stoke that was almost perfect for their needs, and undertook the capital project, having bought some of the best ice cream production machinery in the world they produced their first batch of ice cream on the 1st December 2017.
The site has room for expansion and is just ten minutes from one farm and five minutes from the other meaning fresh milk can be delivered to the factory literally within minutes of cows being milked.
The A2 Protein milk, fresh from the farm every day, is a key that makes Appleby Farms ice cream special, "A2 ice cream has real export potential and we are the only ice cream company that we know of in New Zealand producing an A2 ice cream."
Appleby Farms control everything from growing the grass to making the finished product – Cow to Cone is a key company slogan.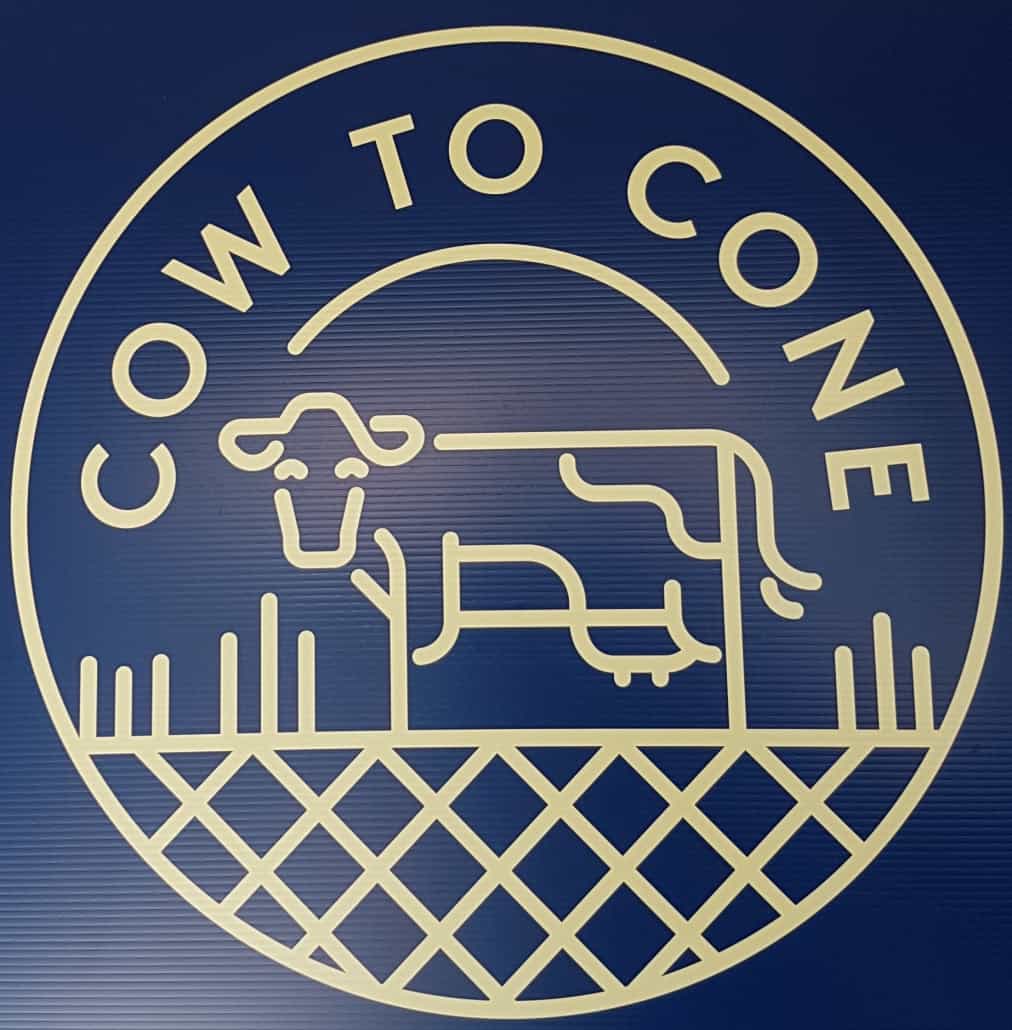 Rew told me Nelson has become known for its premium producers with companies like Pic's, Proper Crisps, Hogarth's Chocolate and a number of other outstanding companies so when they launched this premium ice cream they wanted it to add to the story of premium Nelson production.
The whole process from deciding to go ahead to producing the first products happened so quickly they had to find a way to get the product in consumers hands, "we knew we had to get locals to try it first so we bought an new Airstream Caravan and used it to introduce Appleby Farms Ice Cream to customers over summer at Tahunanui beach, the one day cricket and other events.
"The Nelson Airport Company allowed us to put a pop-up store in the terminal so visitors to Nelson saw our brand from day dot, we are really humbled by the support Nelson has given us, including the city council that helped us get a spot at the beach so we could introduce our brand to the region."
The company has a number of key values but when it comes to flavour every variety must 'Taste Bomb', "it simply must taste fantastic" says Rew.
The Appleby Farms Bad Boys 'n' Berries made from local boysenberries won a gold medal at the Ice Cream Awards while the biggest award they won was Best Premium Vanilla Ice Cream  for their Bedford Vanilla and was the only entry in the category to win a gold medal as well.
"Air New Zealand visited us in January, it was the day we ran passionfruit for the first time, their head chef and buyer of premium products were blown away, we took them to the farm where the grass grows, they saw the cows that produce the milk to make the ice cream and they loved the whole Cow to Cone story we have to tell.
"Air NZ put a scooping freezer into the international lounge at Auckland airport and it was so successful they moved it to the domestic Koru lounge and wrote an article about is in Kia Ora Magazine, for us this was marketing gold.
"We have put, a lot of time into our brand and images, we tell a story in every pack, a story about ice cream production in Nelson, from transporting the milk in an old Bedford truck, to the Brown-eyed cows  and even the Bird of Brazil which is a coffee ice cream made with espresso using Brazilian coffee beans.
"Dan and Emma at Sublime Coffee helped us refine the coffee to find the perfect bean to make a coffee ice cream that has a coffee kick, it is another example of how much local support we have and just how many talented people are producing outstanding products in the region."
In terms of way forward, they are an aspirational group with eyes set on a global business, they want to be exporting by next year and have started their planning, "The local team from NZTE have been exceptional in supporting us at this early stage."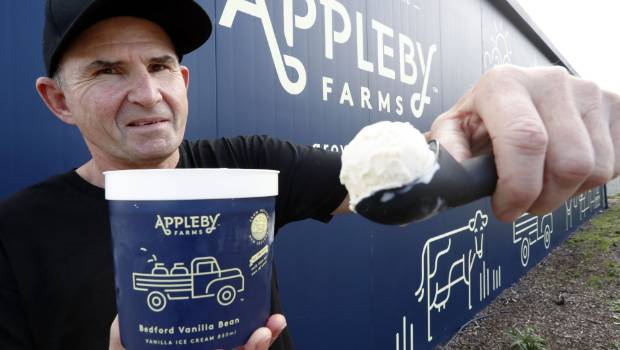 With such success it is tempting to look at other products but the owners of Appleby Farms Ice Cream have a total focus on ice cream, "if we get off the track we could lose our way, we want to stamp our mark as a premium ice cream business and focus on our brand which is all about ice cream with integrity, it is just so important to us and we won't compromise it."
And Appleby Farms Ice Cream passed the taste test in our office, including one dairy intolerant person who had no side effects after eating this delicious A2 milk treat that is crafted by passionate people right here in Nelson.