Biltong is a traditional South African meat product that has been made in Nelson by two or three different businesses over the years, you may remember there was a small burger outlet in Bridge Street about 15 years ago where the owner also made biltong and a producer who makes biltong at home for sale on-line has been making it for a wee while now, but the new Safari Treats store in town stocks more than just biltong.
Bev and Andre Meyer took over the space that was home to Harry's Fish Shop in Montgomery Square at the entrance to the Marble Arch Arcade and have packed it full of various New Zealand made products that have a South African heritage alongside a whole range of imported South African foods. From general groceries to fresh and cured meat products, this small shop has a huge range in a tiny space.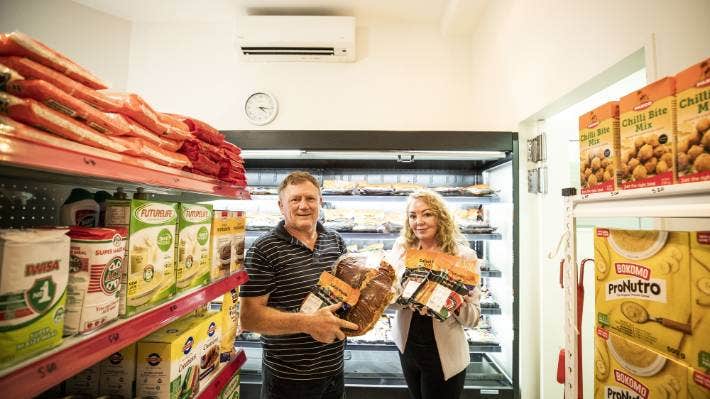 I sat down to talk with Bev and Andre last week to find out more about them, their store and the size of the market for their specialty products in Nelson. Bev, a dental nurse by trade, and Andre, a heavy machinery mechanic, are originally from Johannesburg but spent almost 12 years in Christchurch before arriving in Nelson seven months ago.
Andre says "I had a job to go to in Christchurch and landed in Auckland the day before the 2011 earthquakes so after spending a couple of months in Auckland we moved to Christchurch where everything was locked down and barricaded."
The couple moved here to enjoy a better life in a beautiful country so arriving in the chaos of the aftermath of the earthquakes created a few challenges, but they haven't regretted the move at all.
So what enticed this mechanic and dental nurse who is also a trained beauty therapist and had a successful business in Christchurch to move to Nelson?
"We visited Kaiteriteri for a holiday with our adult children and grandchildren and just fell in love with Nelson, the feel of the region, it's just a lovely atmosphere" says Bev.
Andre told me that everything is so close, you don't have to go very far to be able to walk in the water at the beach, "we walk in the water and you just feel the stress leaving you, a walk on the beach is a fantastic way to relax. And believe it or not, there isn't actually a lot to do in Christchurch. There are skate parks and so on but for adults who aren't into cycling you're pretty much left with bars and cafes. There's so much more in Nelson."
When the couple moved to Nelson they were buying some the foods from their home country from on-line stores in Auckland and from a specialist butcher in Christchurch. Andre told me that the food they were buying from Auckland was seriously sub-standard, "We had such a great shop to go to in Christchurch it was the only downside of being in Nelson."
"As we met people here locals were asking us about South African food, there is also a large South African ex-pat community here so the idea of us starting a food business was an interesting thought for us."
Bev was starting a beauty therapy business but it was early days, "sitting at home isn't for me and the therapy business was in its infancy so when Andre said we should do the shop I thought it was a crazy idea, I'm a beauty therapist, what am I going to do in a shop?"
When they decided to go ahead with the store in October last year "there were lots of sleepless nights worrying about how it would go, but it's been very good from day one."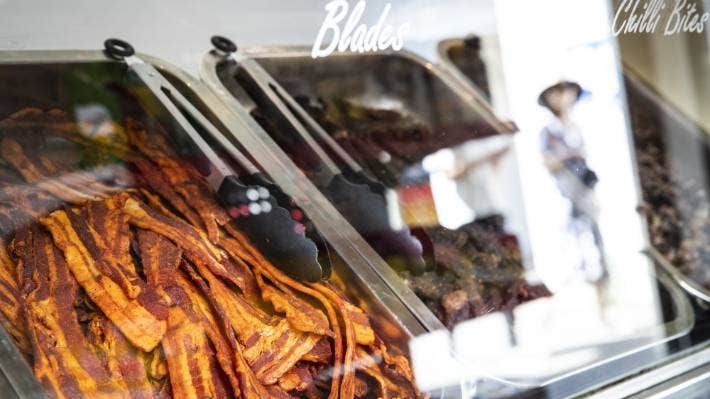 While neither of them has food or retail experience they are used to hard work and have been guided by Chris from the Safari Meats & South Africa shop in Christchurch. "He was looking for a space to open an outlet for his products in Nelson and when we drove down to see him about supplying us with his cured meats and fresh, vacuum-packed meats he was delighted. We had gotten to know him over the years we were in Christchurch so he was only too happy to help us. He has been a great mentor for us as well as being a supplier."
Safari Meats in Christchurch is a specialty butcher shop making traditional South African meat products like the fresh Boerewors (curly sausage) in different flavours and sizes, smoked cheese sausages, flavoured steaks and even the enormous 2.5kg Texan Steak that is perfect on the barbecue. All of their meat is aged before being turned into these wonderful products.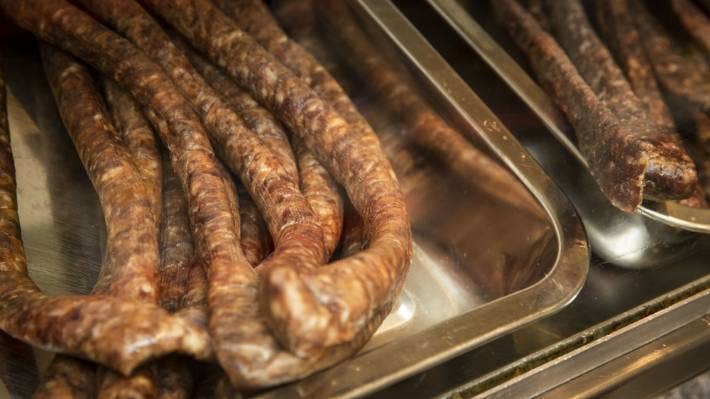 Safari Meats make cured meats using traditional South African methods. Biltong, dry wors, chili bites, spicy bacon biltong, smoked honey bacon biltong (warning – this is dangerously addictive) and cabanossi. Babbelas is a mix of all the cured meats and Andre says it's a perfect hangover cure. "All dried meat is air dried, it's cured with vinegar, salt and spices, just like people did hundreds of years ago."
When it comes to who is buying their beautiful meat products and South African spices and groceries Bev told me that there is quite a big ex-pat South African community here, but they have customers from all walks of life end lots of ethnicities. While I was there a woman from Russia came in and stocked up on cured meats as well as a couple of sweet treats.
"We have only been open five weeks but already people from Motueka, Stoke, Kaiterteri and even Blenheim have found us. The Blenheim customer drives over just to buy the biltong we have." They are also currently having a website built by their daughter, and that site will include an on-line shop. Getting ready to sell online.
Andre says "We're real South Africans and know what a great South African-style product is, for us it's about having a great quality product with lots of flavour and spices.
"We're just working our way through it, meeting new faces and chatting with people. The business has been good to us and we're glad to have made the decision to open the shop."
I think locals will be glad they are here too, the couple have developed strong relationships with key suppliers and only sell the very best they can buy, products that reflect South Africa.